(hit "refresh" to get the most recent version of this page; click on photos for larger images)
former Cities Service station
Augusta, KS

This former Cities Service station was housing Novaks Glass Shop when this photo was taken in 2010. By 2015, the building was housing Fast Lane, a used car dealership. [map]
former Cities Service station
Wichita, KS

This former Cities Service station began housing a Vickers station in the early 1960s. This canopy was probably added then. These photos are from 2010. By 2018, the building and canopy were painted white and red. The building houses J&G Tire Service. [map]
former Sinclair station [gone]
Gardner, KS
This former Sinclair station was built in 1962. It had been used as a liquor store before these photos were taken in 2010. It appeared to be closed at that time. In 2015, this station was put up for sale. The building was dismantled in 2016. It appeared to be done fairly carefully so it may be reassembled somewhere else. There is another station like this one in Lincoln, IL.
former station
Parsons, KS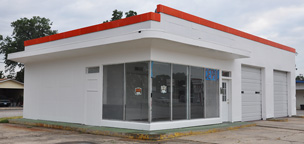 This former station was vacant when this photo was taken in 2010. Since around 2013, the building has housed a couple of tire shops. Does anyone know what brand of gas was sold here originally? [map]
former Phillips 66 station [gone]
Wichita, KS
2006:
2010:
The former Phillips 66 station was known as Nickelson's 66 Service in the late 1950s and early 1960s. Although this building advertised for Kansas Blue Print, I believe it had been vacant for many years. It was demolished around 2013. [2006 photo thanks Glenda Campbell]
former Phillips 66 station
Wichita, KS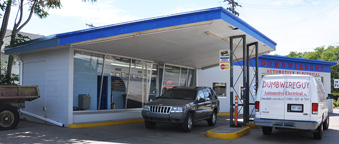 The former Phillips 66 station now houses Dumbwireguy. This Phillips 66 design variation featured a truncated "batwing" canopy. [map]
former Vickers station
Haysville, KS
This former Vickers station features a parabolic roof. Vickers Petroleum developed this design in 1954. This concrete structure withstood a tornado while buildings around it were heavily damaged. It recently housed an information center and Chamber of Commerce for many years. The building now houses the Haysville Economic Development office. [map]
former Vickers station
Wichita, KS
This former Vickers station was built in 1957 and has been significantly altered. The building looked like the station in Haysville described above when it was built. It has housed Morgan-Bulleigh, an upholstery shop, for many years. [map]

There was another Vickers station in Wichita of this design which has been demolished. It was known as the Cardwell Service Station.

There are a few Orbit stations in California which feature a similar building style. There is another gas station with a parabolic roof in Fayetteville, NC.
RoadsideArchitecture.com

Copyright. All photos at this website are copyrighted and may only be used with my consent. This includes posting them at Facebook, Pinterest, blogs, other websites, personal use, etc.

Tips & Updates. If you have suggestions about places that I haven't covered, historical info, or updates about places/things that have been remodeled or removed, I'd love to hear from you: roadarch@outlook.com.