(hit "refresh" to get the most recent version of this page; click on photos for larger images)
former station
Lacrosse, KS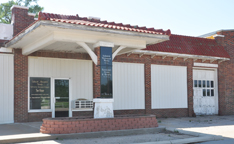 This former station was built in 1930. The building last housed Schmidt Monument Works. It is currently vacant. [map]
former station
Leavenworth, KS
This former station now houses the Little Bar. [map]
former Conoco station
Kansas City, KS
This former Conoco station was built in 1940. The building now houses the Urban Station, a community gardening program for teens where they grow vegetables. [map]
former station
Goodland, KS

2010:
2024:
This former station was built around 1925 and has been vacant since at least 2008. [map]
former station
McPherson, KS
It looks like this former station was last occupied by the Gran-Diel Music Co. It was vacant when these photos were taken in 2010. The building was still vacant in 2018. [map]
former station
Norton, KS

This former station was built in 1925. In 1939, it became a Sinclair station. The station was restored by Larry Urban sometime between 2012 and 2016. For more, see this website. [map]
former station
Kensington, KS

This former station has been vacant for many years. It appears to be from the 1920s or 1930s. [map]
former station
Smith Center, KS
This former station is probably from the 1920s. It featured a Standard Oil sign but I don't know if that was the original brand sold here. The sign would have originally had a glass flame projecting from the torch. That sign is gone now. [map]
former station
McPherson, KS

My guess is that this was a former station and garage. Does anyone know the history of this building? This photo is from 2010. Sometime after 2015, the building was remodeled. The setback facade was removed and brought forward into a flat front. [map]
former station
Glen Elder, KS

2010: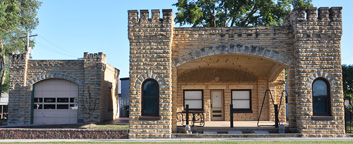 This former station, aka the "Castle Service Station", was built for E.W. Norris in 1926. Norris was inspired by a castle that he saw in Germany while serving in World War I. The station is built from post rock limestone. The detached garage was built in 1929. The station is listed on the National Register of Historic Places. In the 1970s, this building housed a Kerr-McGee station. Since 2012, the building has housed the Glen Elder Castle Lodge, a bed and breakfast. [map]
RoadsideArchitecture.com

Copyright. All photos at this website are copyrighted and may only be used with my consent. This includes posting them at Facebook, Pinterest, blogs, other websites, personal use, etc.

Tips & Updates. If you have suggestions about places that I haven't covered, historical info, or updates about places/things that have been remodeled or removed, I'd love to hear from you: roadarch@outlook.com.