(hit "refresh" to get the most recent version of this page; click on photos for larger images)
The Tamale
Montebello, CA
The Tamale has been here since at least the 1920s. The tamale-shaped design was originally conceived of by Samuel C. Wilhite as tamale stand on wheels. Wilhite decided to build this permanent building instead. The tamale-shaped building was built as The Tamale, a Mexican Restaurant. I believe the building was still operating as a restaurant until at least the 1980s. The building last housed Charley's Beauty Salon since at least 2001. In 2013, it was announced that the building was endangered. However, the building is still there as of 2021. For more, see this website. [map]
The Clam Box seafood restaurant was built in the shape of a take-out container. It was built in 1938 by Dick Greenleaf. The sign says "since 1935" so I assume there was a different building or location for the first three years. Originally, the building was just the giant box itself with a kitchen and takeout windows. The upper floor was used for storage. In 1961, the dining room addition was made. There was a second location built in 1980 in Salisbury but I don't think it's there anymore. I don't believe it was shaped like this. For more, see these websites: 1 and 2. [map]
Pizza Slice [gone]
Boston, MA
Pizza Slice
Dallas, TX
Jendy's Pizzeria [gone]
Austin, IN
Giant Pizza
Akron, OH
The Pizza Slice in Boston was created for Jessica's Deli. The business was Sam & Anne's Deli when this 2008 photo was taken. Both the business and pizza slice were gone by 2014.

The Pizza Slice in Dallas is located at Serious Pizza. The abstract metal shape had been there for many years when the building below housed July Alley. In 2017, Serious Pizza expanded into that space and had the shape painted as a slice. In 2021, the pizza graphic was painted over. For more, see this website. [map]

Jendy's Pizzeria featured a giant wedge of pizza installed on the roof. This photo is from 2009. By 2013, the business and pizza slice were gone.

This Giant Pizza in Akron is located at Luigi's Restaurant. It has been here since at least 2003. [map]
Submarine Sandwich
Guadalupe St.
Austin, TX
Submarine Sandwich
Ranch Rd.
Austin, TX
These Submarine Sandwiches are located at two ThunderCloud Subs locations. The chain was established in 1975. There are now more than two dozen stores. I don't know if any of the other locations have these giant sandwiches. [Guadalupe St. map]; [Ranch Rd. map]
Egg Water Tower
Newberry, SC
Betsey Orb
Miami Beach, FL
Giant Egg
Mentone, IN
Giant Egg
Winlock, WA
The Egg Water Tower proclaims, "Newberry County, Milk and Egg Capital". [map]

The egg-shaped Betsey Orb was built in 2016 and conceals a skybridge between the Betsey Hotel and the Carlton Hotel. [map]

The Giant Egg in Mentone was created in 1946 for the local egg festival. It is made of concrete over a steel frame and is approximately 10 feet tall. [map]

The Giant Egg in Winlock is 14 feet long and 7 1/2 feet tall. Winlock's first giant egg was created in 1923 from canvas. A plastic one was made in 1944. In the 1960s, a fiberglass egg was made, lasting until the early 1990s. This one was produced in 1993 from plastic and plywood. It was painted like an American flag for many years but has been plain white since 2006. Winlock was considered the Egg Capital of the World at one time and still celebrates with an annual Egg Days festival. There are also several Giant Chickens around town. For more, see these websites: 1, 2, and 3. [map]
Loaves of Bread
Urbana, OH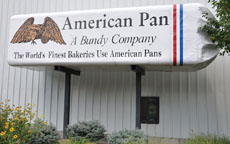 There are two giant Loaves of Bread at the American Pan building. They are made of fiberglass over wood, steel, and wire mesh. These photos are from 2010. In 2016, the Loaf shown in the bottom row had been repainted with a Bundy Baking logo. For more, see this website.
The Loaf
Elysburg, PA
The Loaf appears to be a former concession stand at Knoebels Amusement Park. The building looks like it is used only for storage now but there seems to be bread-making equipment inside as well.
RoadsideArchitecture.com

Copyright. All photos at this website are copyrighted and may only be used with my consent. This includes posting them at Facebook, Pinterest, blogs, other websites, personal use, etc.

Tips & Updates. If you have suggestions about places that I haven't covered, historical info, or updates about places/things that have been remodeled or removed, I'd love to hear from you: roadarch@outlook.com.