(hit "refresh" to get the most recent version of this page; click on photos for larger images)
Bert's Chuck Wagon
Collinsville, IL

2010:
2012: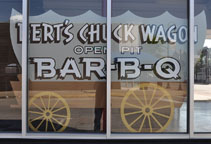 Bert's Chuck Wagon opened here in 1965. The sign was originally located on a pole next to the building. The top row of photos is from 2010. Later that year, the restaurant was forced to move to a new location due to road expansion. The building was demolished. The sign was repainted and put on display inside the new location (bottom photo). By 2017, the sign was back outside, installed on the building. However, the midsection had been turned into a digital display. The building now houses the Verona Coffee Co. but what's left of the Bert's sign is still on the exterior. [map]

There were about ten locations. There is still a location in Fairview Heights, IL that is now a Mexican restaurant but still has the same style sign. It was part of the chain but never used the Bert's name.
Lem's BBQ House
Chicago, IL
Lem's BBQ House opened here in 1953. This sign is probably from that time. These photos are from 2006. The sign was repainted around 2008. For more, see this website. [map]
Orange Garden Restaurant [gone]
Chicago, IL
The Orange Garden Restaurant opened in 1924, making it the oldest Chinese restaurant in Chicago. The restaurant went by a different name until 1932. This sign might be from then. Some say it was the oldest working neon sign in Chicago. In 2022, the sign was sold to a collector. The facade is probably from the 1940s. For more, see this website.
Harlo Grill
Melrose Park, IL
The Harlo Grill opened in 1953. In 2018, the business moved a block away and the pole sign was moved with it. The original building was demolished. For more, see this website. [map]
RoadsideArchitecture.com

Copyright. All photos at this website are copyrighted and may only be used with my consent. This includes posting them at Facebook, Pinterest, blogs, other websites, personal use, etc.

Tips & Updates. If you have suggestions about places that I haven't covered, historical info, or updates about places/things that have been remodeled or removed, I'd love to hear from you: roadarch@outlook.com.