(hit "refresh" to get the most recent version of this page; click on photos for larger images)
Scotty's Drive-In
Idaho Falls, ID
This Scotty's Drive-In opened in 1964 and was originally part of a chain. By 1966, there were seven locations in at least six states. The chain disbanded in 1968 and the surviving locations began operating independently. For more, see these websites: 1, 2, and 3. [map]

The other three surviving locations are in Aberdeen, SD, Bismarck, ND, and Scottsbluff, NE. There were other locations in Mitchell, SD; Sioux City, IA; Glendive, MT; Helena, MT, and possibly others. If you know of any others, I'd love to hear about them.
Hungry Onion Drive-in
Meridian, ID
The Hungry Onion Drive-in opened in 1963. The sign was built by the Ashley Sign Co. The business closed in 2022. For more, see these websites: 1 and 2. [map]
Dub's Drive-in
Sandpoint, ID
Dub's Drive-in opened in 1951 as a Dari-Delite. It many not have become Dub's until the 1970s. [map]
Golden Wheel Drive-in
Boise, ID
The Golden Wheel Drive-in opened in 1962. The drive-in closed in 2021 but reopened in 2022. For more, see this website. [map]
Viking Drive-in
Boise, ID
The Viking Drive-in opened in 1964. It features two drive-thru lanes. For more, see this website. [map]
Highway 30 Drive-in
Mountain Home, ID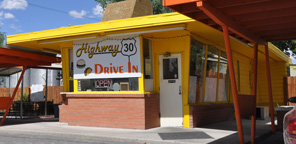 The Highway 30 Drive-in was built in 1955 as the KwikCurb Diner. The building is the original. It is listed on the National Register of Historic Places. The drive-in was later known as Marv's Drive-in, the Hungry Onion Drive-in, and the Big Onion Drive-in before becoming the Highway 30 Drive-in. [map]
RoadsideArchitecture.com

Copyright. All photos at this website are copyrighted and may only be used with my consent. This includes posting them at Facebook, Pinterest, blogs, other websites, personal use, etc.

Tips & Updates. If you have suggestions about places that I haven't covered, historical info, or updates about places/things that have been remodeled or removed, I'd love to hear from you: roadarch@outlook.com.