(hit "refresh" to get the most recent version of this page; click on photos for larger images)
Majestic Diner
Atlanta, GA
The Majestic Diner opened in 1929. These signs are probably from the late 1940s or 1950s. For more, see these websites: 1 and 2. [map]
former Oogleblook [gone]
Atlanta, GA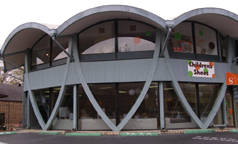 former Oogleblook
Doraville, GA

2007:
2021:
The Oogleblook was a local, hamburger-focused fast food chain owned by Morrison's Cafeteria of Mobile, AL. The buildings were designed by Fred Woods. The 33-foot-tall round buildings feature 12 glass panels. The "V"-ish shaped panels were made of wood. The roof was installed in sections. They appear to be concrete. The restaurants featured a self-serve, computer ordering system. There were plans to build eight or ten locations around Atlanta by 1971. However, I believe these were the only two ever built. If anyone knows of any other buildings like these, I'd love to hear from you.

This Oogleblook building in Atlanta was the first location, built in 1969. It later housed Sprong, a children's shoe store and other retail tenants. The building was demolished in 2016. For more, see this website.

This Oogleblook building in Doraville was built in either 1969 or 1970. It closed around 1974. After that, the building housed Murray's Subs. In 2007, it was housing Cafe 101 in 2007. By 2016, the building was housing Shaking Crawfish. [map]

A building in Athens, GA looks similar but it is not as tall and it has a skylight. It was built around 1960 for Georgia Natural Gas.
Ball Ground Burger Bus
Ball Ground, GA
The Ball Ground Burger Bus uses a 1948 electric trackless trolley bus that came from Atlanta as an attached dining room. The bus was retired in 1963. Cecil Ingram bought several of the buses and moved them to Ball Ground. Harrold and Lamar Harris bought this one and began using it as their office. It was later sold to Dylan Brown who renovated it and opened the restaurant in 2015. For more, see this website. [map]
4-Way Lunch
Cartersville, GA
Coconuts Ice Cream
Cartersville, GA
The 4-Way Lunch opened in 1930. In 1993, the building burned down and was rebuilt two months later with donations from the community. It has a formica counter with 11 stools. For more, see this website. [map]

This building has housed Coconuts Ice Cream since 1998. The triangle-shaped building was built in 1940 as a coal weigh station. [map]
Burgermaster
Columbus, GA

2010: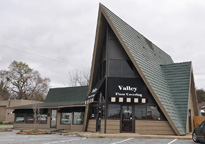 Burgermaster opened in the late 1960s. The building later housed Zeb's Seafood and Valley Flooring. It now houses a real estate office. [map]
Ruth Ann's Restaurant
Columbus, GA
Ruth Ann's Restaurant opened in 1959. [map]
RoadsideArchitecture.com

Copyright. All photos at this website are copyrighted and may only be used with my consent. This includes posting them at Facebook, Pinterest, blogs, other websites, personal use, etc.

Tips & Updates. If you have suggestions about places that I haven't covered, historical info, or updates about places/things that have been remodeled or removed, I'd love to hear from you: roadarch@outlook.com.