(hit "refresh" to get the most recent version of this page; click on photos for larger images)
Roy's Grill
Rossville, GA
Roy's Grill opened in 1934 as a Krystal hamburger stand. The building was replaced with this one during road widening in 1949. These photos are from 2005. The restaurant had been closed since at least 2007. It reopened in 2011. It closed and opened again since then. It is now closed. [map]
former Burger Barn
Statesboro, GA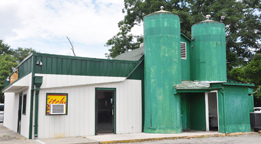 This Burger Barn was a mid-1960s Georgia and North Carolina chain. This is believed to be the only building left although it has been remodeled quite a bit. There was a barn-shaped sign and the barn's silos housed the restrooms. There were at least five other locations. This building now houses the Chinese Kitchen. For more, see this website. [map]
Ball Ground Burger Bus
Ball Ground, GA
The Ball Ground Burger Bus uses a 1948 electric trackless trolley bus that came from Atlanta as an attached dining room. The bus was retired in 1963. Cecil Ingram bought several of the buses and moved them to Ball Ground. Harrold and Lamar Harris bought this one and began using it as their office. It was later sold to Dylan Brown who renovated it and opened the restaurant in 2015. For more, see this website. [map]
Burgermaster
Columbus, GA

2010: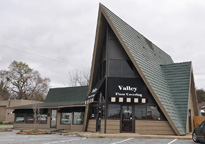 Burgermaster opened in the late 1960s. The building later housed Zeb's Seafood and Valley Flooring. It now houses a real estate office. [map]
Ruth Ann's Restaurant
Columbus, GA
Ruth Ann's Restaurant opened in 1959. [map]
former Candyland [gone]
Lake Park, GA
This former Candyland restaurant housed a gas station convenience store and Dairy Queen for many years. It was still there in 2019 but demolished by 2020. For more, see this website.

There was another location in McDonough, GA which is still there and also houses a Dairy Queen. I believe that there were locations in Jesup, GA and St. Augustine, FL as well.
Charlie Joseph's
La Grange, GA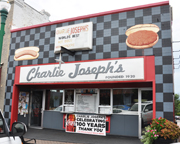 Charlie Joseph's first opened as a fruit stand in 1920 and began selling hot dogs here in 1946. [map]
4-Way Lunch
Cartersville, GA
Partridge Restaurant
Rome, GA
The 4-Way Lunch opened in 1930. In 1993, the building burned down and was rebuilt two months later with donations from the community. It has a formica counter with 11 stools. [map]

The Partridge Restaurant opened in 1933. The building originally housed the Gordon Theatre. You can't help but wonder what's under all that siding. For more, see this website. [map]
former Shakey's Pizza Parlor
Warner Robins, GA

This former Shakey's Pizza Parlor opened in 1970 or 1971. The chain was founded in Sacramento, CA in 1954. When it was bought out in 1974, there were about 500 locations nationwide. There are still about 50 locations in California. There were at least two locations in Atlanta, GA by 1968. There was a location in Auburn, GA which closed in 2019. When this Warner Robins location closed in 2013, it still had much of the original interior and an original pole sign like these in California. The building now houses Hot Spot Wings & Pizza. For more, see these websites: 1 and 2. [map]

Majestic Diner
Atlanta, GA

The Majestic Diner opened in 1929. The building was most likely remodeled in 1939 when the Plaza Theatre next door was built. The Majestic is open 24 hours. Its signs read "Food to Take Home" and "Food that Pleases". For more, see these websites: 1 and 2. [map]

former Oogleblook [gone]
Atlanta, GA

former Oogleblook
Doraville, GA

| | |
| --- | --- |
| | |

The Oogleblook was a local, hamburger-focused fast food chain owned by Morrison's Cafeteria of Mobile, AL. The buildings were designed by Fred Woods. The 33-foot-tall round buildings feature 12 glass panels. The "V"-ish shaped panels were made of wood. The roof was installed in sections. They appear to be concrete. The restaurants featured a self-serve, computer ordering system. There were plans to build eight or ten locations around Atlanta by 1971. However, I believe these were the only two ever built. If anyone knows of any other buildings like these, I'd love to hear from you.

This Oogleblook building in Atlanta was the first location, built in 1969. It later housed Sprong, a children's shoe store and other retail tenants. In 2015, there was a proposal to demolish the building for an apartment complex. The building was demolished in 2016. For more, see this website.

This Oogleblook building in Doraville was built in either 1969 or 1970. It housed Cafe 101 when these photos were taken in 2007. It previously housed Murray's Subs. [first photo, ca. 1987, thanks Eavenson Art; other photos from 2007] By 2016, the building had been painted an orange-pink and it was housing Shakin' Crawfish. [map]

A building in Athens, GA looks similar but it is not as tall and it has a skylight. It was built around 1960 for Georgia Natural Gas.

By 1969, there were 33 Wishbone Fried Chicken locations and 58 others were being built. Many of them were built in conjunction with MaJik Market convenience stores next door as part of the same building.

Wishbone Fried Chicken
Tifton, GA
Wishbone Fried Chicken
Newnan, GA

I believe these Wishbone Fried Chicken plastic signs are the only two that are left.

The Tifton location was built in 1965. It had closed by 2018 and the sign on the building was painted over. The pole sign is still there but partially broken. The building has been vacant since at least 2019. [map]

The Newnan location opened in 1970 and is still open. In 2020, it was announced that the business was moving to a new building nearby. I don't know if the signs will be moved there. [map]

The Maryland Fried Chicken chain was founded in Orlando in 1961. The chain grew to around 200 locations in Virginia, Georgia, South Carolina, Michigan, New York, Pennsylvania, and possibly other states. For Maryland Fried Chicken signs and buildings in Florida, see this page.

Maryland Fried Chicken
Albany, GA

2007:

This Albany location was built in 1968. It has well-preserved signs and a vintage building. By 2011, the building had been repainted and the giant rooster next to the entrance had been painted white and moved to the roof. The plastic sign panels appear to have been repainted. [map]

Maryland Fried Chicken
Swainsboro, GA

The Swainsboro location had removed the building signs and added a mansard roof by 2008. The original plastic and neon pole sign is intact. The building sign was added sometime after 2019. [map]

Maryland Fried Chicken
Augusta, GA

The Augusta location has a vintage building while the sign is modern. [map]

Maryland Fried Chicken
Waycross, GA

The Waycross location opened in 1969. The building and signs have been remodeled and updated. [map]

There is another location in Thomasville, GA.

More Georgia Eateries:
Sno Biz (Cartersville)




RoadsideArchitecture.com

Copyright. All photos at this website are copyrighted and may only be used with my consent. This includes posting them at Facebook, Pinterest, blogs, other websites, personal use, etc.

Tips & Updates. If you have suggestions about places that I haven't covered, historical info, or updates about places/things that have been remodeled or removed, I'd love to hear from you: roadarch@outlook.com.