(hit "refresh" to get the most recent version of this page; click on photos for larger images)
The Suds
Greenwood, IN
The Suds opened in 1957 as a Dog n Suds. It became The Suds in 1983. It has changed owners and closed a number of times over the years. It is now owned and operated by The Suds Hot Rod Club. For more, see this website. [map]
Dog N Mug
Mishawaka, IN
The Dog N Mug occupied a former Dog n Suds. It closed in 2012. In 2015, the place reopened as a used car lot. For more, see this website. [map]
Sam's Drive Inn
Byron, IL

Sam's Drive Inn occupies a former Dog n Suds. Does anyone know more about the place? [map]
former Dog n Suds
Aurora, IL

2006: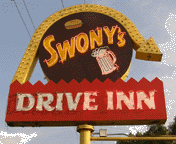 2012:
When this Dog n Suds became Swony's Drive Inn, the sign was adapted. Swony's was there since at least 2003 and closed around 2005. In 2006, the sign was removed. It is now in a private collection. A new sign was installed when the place reopened as the Doggie Diner. In 2017, the place was known as The Diner. By 2018, the building was housing Taco Movil. [map]
former Suds N
West Plains, MO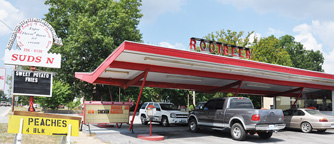 The Suds N changed the name and sign a little when it ceased being a Dog n Suds. Suds N closed in 2013. By 2016, a used car dealership occupied the lot. The sign was gone. The original canopy was still there but painted brown. [map]
former Dog n Suds Drive-in
Alsip, IL
This former Dog n Suds was known as the Frosted Mug when the photo at the left was taken in 2006. It featured car hops, homemade root beer, and Cruise Nights. The business closed in 2008. In 2009, the Frosted Mug part of the sign was removed (photo at right). The Char-co Burgers part was apparently used by the Dog n Suds chain. There is another example at the Paragould location. In 2010, the building and canopy were repainted but the place remained vacant. In 2013, the sign was adapted for Demon Dawgs which opened in 2014. For more, see these websites: 1 and 2. [map]
former Dog n Suds Drive-in
Wheeling, IL
This former Dog n Suds is now operating as Skipper's Restaurant. [map]
former Dog n Suds
Bristol, TN
This former Dog n Suds housed Garden Spot Produce when this photo was taken in 2011. The sign probably had a Char-co Burgers panel like the one above in Alsip. By 2017, the business had become a used car lot. [map]
Chong Wah
St. Louis, MO

This Chong Wah Chinese Restaurant appears to occupy a former Dog n Suds location. [map]
B-K Root Beer [gone]
Cuyahoga Falls, OH
This B-K Root Beer opened in 1967. The Dog n Suds sign was brought from somewhere else and adapted. In 2013, this location closed and the sign was removed. The building was demolished.
2017:
This former Dog n Suds now houses Pirate's Fish & Chips. [map]
JB's Drive-in opened Jess' Sandwich Shop in 1937. The current building and canopy were built in 1964 after a fire. At that time, the drive-in became a Dog n Suds. The canopy style and plastic "Root Beer" letters are clearly Dog n Suds designs. In the mid-1970s, the drive-in split off from Dog n Suds and was renamed JB's Drive-in. Around 2012, JB's bought back into the Dog n Suds franchise with permission to remain independent. It serves homemade Dog n Suds root beer. For more, see these websites: 1 and 2. [map]
More Dog n Suds Drive-ins & Signs:
Dunedin, FL [map]
Centerville, IA
Davenport, IA
Crest Hill, IL [map]
Oregon, IL
Philo, IL [vintage; gone]
Wood Dale, IL
Indianapolis, IN
Columbus, KS [vintage; gone]
Kansas City, KS
Paducah, KY
Lake City, MI [map]
Kansas City, MO
St. Louis, MO [map]
Arapahoe, NE [map]
Jefferson, OH
Antigo, WI
Williams Lake, BC

If you know of any others, I'd love to hear about them.
RoadsideArchitecture.com

Copyright. All photos at this website are copyrighted and may only be used with my consent. This includes posting them at Facebook, Pinterest, blogs, other websites, personal use, etc.

Tips & Updates. If you have suggestions about places that I haven't covered, historical info, or updates about places/things that have been remodeled or removed, I'd love to hear from you: roadarch@outlook.com.