(hit "refresh" to get the most recent version of this page; click on photos for larger images)
Leon's Frozen Custard
Milwaukee, WI
Leon's Frozen Custard opened in 1942. The company had five locations in Wisconsin at one point and there were plans to expand all the way to Key West, FL. That never happened and the other locations have been sold. This walk-up stand is open year-round. About 90% of its sales comes from frozen custard. Leon's has also sold hot dogs from the beginning.

There was originally a neon skeleton sign of a howling dog installed in the window. The American flag sign was built in the 1940s. In 1955, the building was remodeled and the rooftop neon signs were installed. These non-animated signs remain and are lit at night. The dog sign is about six feet long. According to the sign shop that maintains Leon's signs, the dog sign would be the most difficult sign to replace because of the intricate neon bends. For more, see these websites: 1 and 2. [map]
Andy's Frozen Custard
Springfield, MO
Andy's Frozen Custard first opened in 1986 in Osage Beach, MO. Andy was the name of the owner's son. Andy's opened in Springfield in 1987 and added this location in 1999. With permission, the stand's design was modeled after Leon's Frozen Custard (see above). The owners of the two stands were friends. Andy's Frozen Custard has other locations in Missouri, Illinois, Texas and Arkansas. The ice cream cone sign revolves. It was produced by FAST Fiberglass. [map]
Leon's Frozen Custard
Oshkosh, WI
This Leon's Frozen Custard opened in 1947. Although it was established by Leon's mother and modeled after the Milwaukee stand (see above), this location has always been a separate operation. This stand features car hop service. The custard machines bear the Carvel Custard King logo. For more, see these websites: 1 and 2. [map]
Kitt's Frozen Custard
Milwaukee, WI
I believe Kitt's Frozen Custard opened in 1952 by Jon Kittridge. The sign was installed then. For more, see this website. [map]
Gilles Frozen Custard
Fond du Lac, WI
Strickland's
Akron, OH
Gilles Frozen Custard was founded in Milwaukee in 1938. This was their second location which opened in 1950. However, the two places are independently operated now. This stand still features car hops. For more, see this website. [map]

Strickland's began producing frozen custard in 1936. This is the original stand. There are now 14 locations in Ohio, South Carolina, California and Florida. [map]
Kohr Bros. Frozen Custard
Ocean City, NJ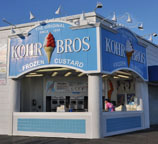 This Kohr Bros. Frozen Custard boardwalk stand appears to be a new or remodeled location. The company was established in 1919 in Coney Island, NY. The Kohr Brothers are credited with inventing frozen custard at that time. There are now locations in Delaware, Florida, Massachusetts, Maryland, New Jersey and Virginia. For more, see these websites: 1 and 2.
Ritter's Frozen Custard
Franklin, IN
Ritter's Frozen Custard
Mishawaka, IN
Ritter's Frozen Custard
Warsaw, IN

Although these Ritter's Frozen Custard locations are not old, I'll include them anyway because of their interesting round shape. The first Ritter's was built in 1989 in Franklin and it might be the one shown above. There are other buildings just like this one in Livonia, MI and Columbus, OH. There are probably others as well since Ritter's has locations throughout the Midwest as well as CO, FL, NV, TN, and TX. There is also a look-alike building in Lima, OH that was not part of this chain. For more, see this website. [Franklin map]; [Mishawaka map]; [Warsaw map]
RoadsideArchitecture.com

Copyright. All photos at this website are copyrighted and may only be used with my consent. This includes posting them at Facebook, Pinterest, blogs, other websites, personal use, etc.

Tips & Updates. If you have suggestions about places that I haven't covered, historical info, or updates about places/things that have been remodeled or removed, I'd love to hear from you: roadarch@outlook.com.