(hit "refresh" to get the most recent version of this page; click on photos for larger images)
2010: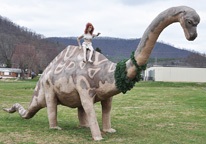 About a dozen fiberglass dinosaurs were installed around this town in 2003. They are the work of Mark Cline who has many other creations at his Enchanted Castle Studios in nearby Natural Bridge, VA. In 2010 (bottom photo), there was only one dinosaur statue left in town. That statue was still there in 2015. but I'm not sure if it is there now. The rest of the statues were moved to Dinosaur Kingdom (see below). For more, see this website. [map]
This dinosaur and giant alligator mouth are installed in front of the Luray Zoo. Mark Cline built this 18-foot-tall dinosaur in 1985. This was his first dinosaur statue. Cline created the alligator mouth around 1989. The owner wanted one that looked like the entrance at Gatorland. The zoo was known as the Luray Reptile Center then. It became the Luray Zoo in 2001. There may be a camel statue inside. However, the place was closed when I was there so I didn't get to check. In 2012, the sign with the snake was missing. For more, see these websites: 1 and 2. [map]
These two Dinosaurs stood in front of Plant Land, a garden center, when these photos were taken in 2007. Does anyone know the history of these statues or where they came from? By 2014, it appeared just the Triceratops statue shown in the bottom row above was still there. [map]
Dinosaur Kingdom II
Natural Bridge, VA
Escape from Dinosaur Kingdom was also created by Mark Cline. Unlike most dinosaur parks, this one had an unusual theme. There were scenes of Union Army soldiers battling with dinosaurs. In addition to the dinosaur figures, Cline's Haunted Monster Museum was on the same property. These photos were taken in 2010. In 2012, there was a major fire. The Monster Museum was destroyed but many of these statues survived. In 2016, the park reopened as Dinosaur Kingdom II, Back From Extinction. For more, see these websites: 1 and 2. [map]
RoadsideArchitecture.com

Copyright. All photos at this website are copyrighted and may only be used with my consent. This includes posting them at Facebook, Pinterest, blogs, other websites, personal use, etc.

Tips & Updates. If you have suggestions about places that I haven't covered, historical info, or updates about places/things that have been remodeled or removed, I'd love to hear from you: roadarch@outlook.com.