(hit "refresh" to get the most recent version of this page; click on photos for larger images)
Enchanted Castle Studios
Natural Bridge, VA
The Enchanted Castle Studios is the workshop of Mark Cline where he produces fiberglass figures. The Enchanted Castle was a tourist attraction in the 1990s but is now used solely as his studio. Mark also created Foamhenge and Dinosaur Kingdom which are nearby. His work appears all over the country. For more, see these websites: 1, 2, 3, and 4. [map]
Pink Cadillac Diner [gone]
Natural Bridge, VA
The Pink Cadillac Diner is just down the road from the Enchanted Castle Studios. This Humpty Dumpty statue was created and owned by Marc Cline. His King Kong statue was also displayed here. These photos are from 2010. In 2012, the Humpty Dumpty and King Kong statues were reclaimed by Mark Cline. For more, see this website.
metal sculptures [gone]
Pomeroy, WA
These metal sculptures were created by Elton Brown. They have been installed in front of his home since at least 1996. The sculptures are made from sickle bar mower teeth, used for cutting hay, and rebar. The shark is 14 feet long. The dinosaur is over 11 feet tall. The alligator is 15 feet long. These photos are from 2016. By 2021, the statues were all gone.
Fat Smitty's
Port Townsend, WA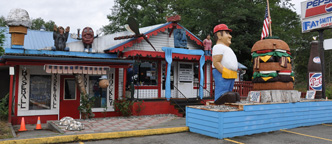 Fat Smitty's opened in 1983. There are a variety of chainsaw carved wooden statues in front of the restaurant. [map]
RoadsideArchitecture.com

Copyright. All photos at this website are copyrighted and may only be used with my consent. This includes posting them at Facebook, Pinterest, blogs, other websites, personal use, etc.

Tips & Updates. If you have suggestions about places that I haven't covered, historical info, or updates about places/things that have been remodeled or removed, I'd love to hear from you: roadarch@outlook.com.