(hit "refresh" to get the most recent version of this page; click on photos for larger images)
Dinosaur Trail
Granbury, TX
The Dinosaur Trail statues were originally installed in Moscow, TX at Dinosaur Gardens. Donald Bean began planning his dinosaur park in the late 1950s after he saw the Prehistoric Gardens in Port Orford, OR. The park opened in 1981 with 11 statues. It never caught on and the place closed in the 1990s. After Bean died, the statues were moved to the property of the Dinosaur Trail Cabins & Cottages. The business closed around 2021. I don't know if the statues are still there. [map]
Dinosaurs
Grand Prairie, TX
The Grand Prairie Dinosaurs are installed in front of Ripley's Believe It or Not. There is another one at their San Francisco, CA location. I believe these three were created by Larry Godwin who has created many sculptures car bumpers such as this Rooster. These dinosaurs were originally located in Dallas, TX at Fair Park's Museum of Natural History. The exhibit was known as Chromassic Park. For more, see these websites: 1 and 2. [map]
Alley Oop Fantasy Land
Iraan, TX
Alley Oop Fantasy Land, or more officially the Alley Oop Museum & Fantasy Land Park, opened in 1965. The park was dedicated to V.T. Hamlin, the creator of the Alley Oop comic strip, who lived in town. Dinny was Alley Oop's pet stegosaurus and is represented here as a 65-foot-long, 16-foot-tall statue. The metal bust of Oop is 20 feet tall. There was supposedly once a slide from his cigar through his head, and another along his shoulder. I didn't notice traces of that when I was there and that feature is not shown in vintage postcards. Dinny and Alley Oop had been recently restored when these photos were taken in 2008. For more, see these websites: 1, 2, 3, and 4. [map]
Triceratops and Hippo
Pampa, TX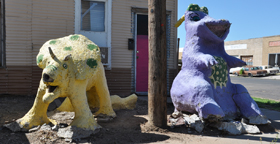 These concrete Triceratops and Hippo statues were installed sometime after 2008. I'm not sure that this is a hippo. It might be another dinosaur. [map]
Grendel the Dinosaur [gone]
San Antonio, TX
Grendel the Dinosaur posed at the entrance of Natural Bridge Caverns which has cave formations and a wildlife ranch. Grendel kept a watchful eye over her shoulder at her two offspring (one just hatching from an egg) and tourists posing on her back. There was a staircase behind her creating this opportunity. Natural Bridge Caverns was discovered in 1960 and was turned into a tourist attraction in 1964. I assume these dinosaurs were built around then. The dinosaurs were removed in 2017. It's not known if they were being repaired or if they are gone for good. They were not there in 2018.
Brontosaurus
Wharton, TX
This fiberglass Brontosaurus was built in 1992. The statue is 20 feet tall and 77 feet long. It is installed in a small park near the Colorado River. It looks like the dinosaur's eyes might be lit up at night. [map]
RoadsideArchitecture.com

Copyright. All photos at this website are copyrighted and may only be used with my consent. This includes posting them at Facebook, Pinterest, blogs, other websites, personal use, etc.

Tips & Updates. If you have suggestions about places that I haven't covered, historical info, or updates about places/things that have been remodeled or removed, I'd love to hear from you: roadarch@outlook.com.