(hit "refresh" to get the most recent version of this page; click on photos for larger images)
Mangiasaurus Rex
Austin, TX
dinosaur sculpture
Austin, TX
This Mangiasaurus Rex statue was originally located at Mangia Pizza. The statue was created by Dale Whistler. I'm not sure when he first appeared but he was there by at least 2004. When the pizza shop closed in 2007, the statue was moved to the roof of the Wheatsville Food Co-Op. For more, see this website. [map]

This bronze dinosaur sculpture is located at the Zilker Botanical Garden's Hartman Prehistoric Garden. The life-sized, eight foot tall sculpture represents an Ornithomimus. It was created by John Maisano in 2002.
Dinosaur [gone]
El Paso, TX

This Dinosaur stood in front of the former Little Dinos Daycare. It had been there since at least 2007. The building had been vacant and the Dinosaur's neck had been broken, and his head missing since around 2015. This photo is from 2017. By 2019, the statue was gone and the building was housing a church.
Triceratops and Hippo
Pampa, TX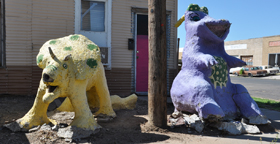 These concrete Triceratops and Hippo statues were installed sometime after 2008. I'm not sure that this is a hippo. It might actually be another dinosaur. [map]
Trinity Lutheran Children's Center
Fort Worth, TX

2011: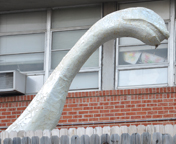 The dinosaur at the Trinity Lutheran Children's Center is located behind the fence in the playground area. By 2013, the dinosaur had been painted bright green. The statue takes a lot of abuse from the children. [map]
Fort Worth Museum of Science and History
Fort Worth, TX
There are three dinosaur statues located outside the Fort Worth Museum of Science and History. The first two dinosaurs shown above have been there since at least 2007. They were built in 1993 by the Larson Company. The third dinosaur, installed in 2009, is a topiary dinosaur, named Ferns Worth. It is 12 feet tall and 62 feet long. This statue represents the Paluxysaurus jonesi, the State Dinosaur of Texas. [map]
dinosaur [gone]
Forney, TX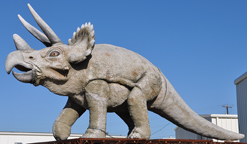 This dinosaur in Forney was located at De Ridder Antiques when this photo was taken in 2011. It appears to be modern. The statue was gone by 2018.
dinosaurs [gone]
Glen Rose, TX
2011:
2018:
These two dinosaurs were located in front of the Visitors Center. They appeared to be relatively modern. The smaller dinosaur was repainted sometime after 2013. By 2018, the building was vacant and the statues were gone.
Fossil Rim Wildlife Center
Glen Rose, TX
These three dinosaur statues are located at the Fossil Rim Wildlife Center. They have been there since at least 2009. [map]
Dinosaur Valley State Park
Glen Rose, TX
Dinosaur Valley State Park features a 45 foot tall Tyrannosaurus Rex and a 70 foot tall Apatosaurus. The statues were built by Jonas Studios for the 1964 New York World's Fair. During the World's Fair, the Apatosaurus had a moving neck and the T-Rex had a jaw that opened and closed. These parts were made stationary before the statues went on a road tour after the Fair. The statues were donated to the State Park in 1970. In 1987, Texas Parks and Wildlife had the Apatosaurus head replaced to conform with modern findings. However, it looked too small to people and in 1995, it was changed back to the original version. For more, see these websites: 1 and 2. [map]
RoadsideArchitecture.com

Copyright. All photos at this website are copyrighted and may only be used with my consent. This includes posting them at Facebook, Pinterest, blogs, other websites, personal use, etc.

Tips & Updates. If you have suggestions about places that I haven't covered, historical info, or updates about places/things that have been remodeled or removed, I'd love to hear from you: roadarch@outlook.com.