(hit "refresh" to get the most recent version of this page; click on photos for larger images)
Masonic Temple
Dallas, TX

2018:
2021: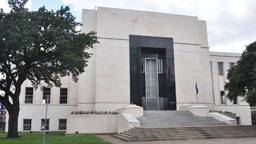 This Masonic Temple was designed by Flint & Broad and built in 1941. The building is faced with limestone and features a black granite and an aluminum entrance. I believe the building has been vacant for years. It has changed hands a few times. In 2018, a new owner restored the building. The Masonic name and symbols were removed. The building now houses office space. [map]
Fair Park
Dallas, TX
Fair Park includes the largest collection of Art Deco buildings in the U.S. They were built for the 1936 Texas Centennial Exposition. Unlike most expositions, these buildings were designed to be permanent. There are also numerous Art Deco statues and murals. The Hall of State, upper right photo, now houses the Texas Hall of State Museum.

The Park itself was established in 1880 and also contains the Dallas Zoo and the Music Hall. The Park still hosts the annual State Fair and the New Year's Day Cotton Bowl football game. The Cotton Bowl building was constructed in 1930 and hosts various football, soccer, and other sporting events during the rest of the year. Big Tex makes his appearance during the State Fair. For more, see these websites: 1 and 2. [map]
Dallas Power & Light Company Building
Dallas, TX
The Dallas Power & Light Company Building was built in 1931. The stained-glass window over the entrance depicts the birth of light. From 2003-2005, the building was converted into apartments. The ground floor now houses food and retail space. For more, see this website. [map]
Bath House
Dallas, TX
The Bath House was designed by John Carsey and built in 1930 on the shore of White Rock Lake. It closed in 1958 when swimming in the lake was prohibited and in order to use the lake for the city water supply. The building remained vacant until 1978. It was then restored and opened in 1981 as the Bath House Cultural Center. [map]
Margaret B. Henderson Elementary School
Dallas, TX
The Margaret B. Henderson Elementary School was built in 1941. It replaced an earlier structure. [map]
Maple Lawn Elementary School
Dallas, TX
The Maple Lawn Elementary School was built in 1932. The relief sculptures were created by Allie Tennant. [map]
Tower Petroleum Building
Dallas, TX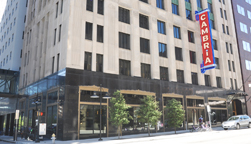 The Tower Petroleum Building was designed by Mark Lemmon and built in 1931. [map]
RoadsideArchitecture.com

Copyright. All photos at this website are copyrighted and may only be used with my consent. This includes posting them at Facebook, Pinterest, blogs, other websites, personal use, etc.

Tips & Updates. If you have suggestions about places that I haven't covered, historical info, or updates about places/things that have been remodeled or removed, I'd love to hear from you: roadarch@outlook.com.