(hit "refresh" to get the most recent version of this page; click on photos for larger images)
Cowboy & Bronco
Colorado Springs, CO
Casey Tibbs
Fort Pierre, SD
Casey Tibbs was rodeo star born 50 miles northwest of Fort Pierre, SD. These life-sized representations show him riding the bucking bronco "Necktie". These fiberglass statues were developed and produced by Prewitt Fiberglass Animals. The original statue for the mold was created for Prewitt by Richard Ellis. Around 1963, International Fiberglass bought the company and may have produced some of these statues as well. I believe these statues were based on this photo of Casey Tibbs. Similar, bronze statues of Tibbs are located in Fort Pierre and Colorado Springs, CO.

The Colorado Springs statue is installed on the roof of the Mill Hill Saloon. [map]

The Fort Pierre statue is designed to revolve in the wind. It was originally installed in a shopping center. It has been moved next to Highway 83. [map]
Cowboy & Bronco
Brawley, CA
2015:
2017:
Cowboy & Bronco
Brawley, CA
2015:
2017:
There are two of these Casey Tibbs Cowboy & Bronco statues in Brawley. The first one is located in Plaza Park downtown. The other is installed near the entrance to the Cattle Call Arena. Around 2007, the statues were painted gold. They were repainted more realistic colors in 2012. Sometime after 2015, both statues were repainted a bronze color. [Plaza Park map]; [Arena map]
Pace's Hardware & Furniture
Logansport, LA
The Cowboy in Logansport is installed above what used to be Pace's Hardware & Furniture. Although the hardware store is closed, the town is attached to this "Bucking Horse". For more, see these websites: 1, 2, and 3. [map]

There was another statue like this one in Crescent, NY.
Black Bear Motel
Davenport, WA
2008:
2016:
The Black Bear Motel features another bucking horse and cowboy. Sometime after 2013, the small bear statues were gone and another bucking horse statue like those described below had been added. [map]
Breckenridge High School
Breckenridge, TX

The Breckenridge High School bucking horse and cowboy appears to be a combination of the horse and cowboy statues above. The horse's head is more tucked like the Davenport statue above but with a different tail. The cowboy is leaning back like the other statues above. None of the other cowboys are holding a hat like this. This sports teams at school are known as the "Buckaroos." [map]
Hochatown BBQ
Hochatown, OK
Park at West End
Fort Smith, AR
These two statues in Hochatown are installed in front of Hochatown BBQ. There is also a giant Cowboy statue here as well. [map]

This statue in Fort Smith is located at the Park at West End. [map]
Cowboy & Bucking Horse
Livermore, CA
This Cowboy & Bucking Horse statue is located at Livermore High School. The school's sports teams are known as The Cowboys. Unlike the statues shown above, this horse has his legs contracted under his body rather than extended. I believe these statues were produced in the 1960s by Prewitt Fiberglass Animals. That company probably made the bucking horse and rider statues shown above, as well as the rearing horse and rider statues and bull rider statues shown below. This statue was installed at the high school in the 1990s as a tribute to Nick Marcon, a student that died in a car accident in 1993. I don't know where this statue was located previously. [map]
residence
Phoenix, AZ
Bittel
Equestrian Center
Owensboro, KY
Yogi Bear's Jellystone Park
Mill Run, PA
These statues are similar to the Casey Tibbs statues described above but on a rearing horse rather than a bucking horse.

The Cowboy in Phoenix is located in the front yard of Don Parks who has a large collection of fiberglass statues on display. [map]

The Cowboy in Owensboro was located at the Bittel Equestrian Center which was previously known as "Cowboys". The Equestrian Center moved in 2014. This statue was still there in 2015. [map]

Yogi Bear's Jellystone Park has a cowboy and bronco at this location.
Cowboy & Bronco
Kanab, UT
Cowboy & Bronco
El Paso, TX
Cowboy & Bronco
West Hollywood, CA
The Cowboy & Bronco statue in Kanab is located near Little Hollywoodland and the Nature's Showcase gift shop. [map]

The Cowboy & Bronco in El Paso stands in front of Northeast Feed. This statue appears to be a modern aluminum replica of the fiberglass version. It was installed sometime between 2007 and 2013. [map]

The Cowboy & Bronco in West Hollywood is located at the Saddle Ranch Chop House which opened in 1999. The restaurant features other statues as well. This statue is not from the same mold as the others shown here and was probably built more recently. [map]
Cowboy & Bronco
McAlester, OK
2011:
2019:
Bull Rider
McAlester, OK

The Cowboy & Bronco statue was installed in Old Town by the City. The cowboy's prison stripes are a reference to the Oklahoma Outlaw Prison Rodeo which were held here annually. This is an aluminum replica of the fiberglass original statue. The black paint has faded revealing the metal figures. [map]

The Bull Rider statue is also a reference to the Prison Rodeo. It was installed sometime between 2008 and 2013. See other statues like this one below. [map]
Bull Rider
Sulphur Springs, TX
Bull Rider [gone]
Chelsea, OK
The Bull Rider statue in Sulphur Springs is located in front of the Best Western Trail Dust Inn & Suites. [map]

The Bull Rider statue in Chelsea was installed in front of the Route 66 Mall. These photos are from 2011. In 2015, a gas station was built on the site and this statue was removed.
Bull Rider
Lampasas, TX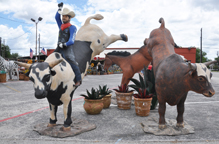 This Bull Rider and lots of other aluminum statues are for sale at Rustler's Junction. The store opened in 2015. [map]
RoadsideArchitecture.com

Copyright. All photos at this website are copyrighted and may only be used with my consent. This includes posting them at Facebook, Pinterest, blogs, other websites, personal use, etc.

Tips & Updates. If you have suggestions about places that I haven't covered, historical info, or updates about places/things that have been remodeled or removed, I'd love to hear from you: roadarch@outlook.com.