(hit "refresh" to get the most recent version of this page; click on photos for larger images)
Mauretania Apartments
Los Angeles, CA
The Mauretania Apartments were designed by Milton Black and built in 1934. The name is a reference to the ocean liner. Many Streamline Moderne buildings incorporated nautical elements such as railings and porthole windows. These apartments were built for actor Jack Haley, best known for his role as the Tin Man in "The Wizard of Oz". For more, see this website. [map]
3919 W. 8th St.
Los Angeles, CA
The apartments at 3919 W. 8th St. were built in 1940. [map]
Wallace Beery Duplex
Los Angeles, CA
The Wallace Beery Duplex was designed by William Kesling and built in 1936. The movie star Beery already had a mansion in Beverly Hills. He had this building commissioned near the studios as a place to entertain friends and movie industry people. For more, see this website. [map]
Victor M. Carter House
Los Angeles, CA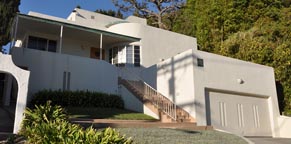 The Victor M. Carter House was designed by Milton J. Black and built in 1935. [map]
apartment building
Los Angeles, CA
This apartment building was designed by J. Knover and built in 1939. [map]
apartment building
Los Angeles, CA
This apartment building appears to be from the 1930s or 1940s. [map]
Skinner House
Los Angeles, CA
Punch TV Studios [gone]
Los Angeles, CA
The Skinner House was designed by William Kesling and built in 1937. [map]

The Punch TV Studios building was built in 1935. I don't know what business was here originally. The building was demolished in late 2018 or early 2019.
former Pepperdine University
Los Angeles, CA
The original campus of Pepperdine University was built in 1937. At that point, all the buildings were painted light blue. The school relocated to Malibu, CA in 1972. The buildings are now occupied by the Crenshaw Christian Center. [map]
RoadsideArchitecture.com

Copyright. All photos at this website are copyrighted and may only be used with my consent. This includes posting them at Facebook, Pinterest, blogs, other websites, personal use, etc.

Tips & Updates. If you have suggestions about places that I haven't covered, historical info, or updates about places/things that have been remodeled or removed, I'd love to hear from you: roadarch@outlook.com.