(hit "refresh" to get the most recent version of this page; click on photos for larger images)
Silberberg Building
Los Angeles, CA
The Silberberg Building was designed by J. Robert Harris and built in 1931. It was built for the La Brea Mortgage Company and housed offices and retail space. Abraham Silberberg was the mortage company's founder. The Milk ice cream parlor and restaurant opened here in 2007. The building now houses the Gelato Angels. For more, see this website. [map]
former Louis Pasteur Junior High
Los Angeles, CA
The Louis Pasteur Junior High buildings were built in 1937. They now house the Los Angeles Center for Enriched Studies. [map]
Manual Arts High School
Los Angeles, CA
The Manual Arts High School was established in 1910. The campus was demolished during the 1933 Long Beach earthquake. These buildings were built shortly after that. They were designed by John and Donald Parkinson. For more, see this website. [map]
Thomas Jefferson High School
Los Angeles, CA
Thomas Jefferson High School was designed by Stiles O. Clements and built in 1936. For more, see this website. [map]
Florence Nightingale Middle School
Los Angeles, CA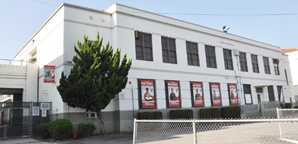 Florence Nightingale Middle School was designed by John C. Austin and Frederick M. Ashley and built from 1937-1939. [map]
Hollenbeck Middle School
Los Angeles, CA
Hollenbeck Middle School was designed by Alfred P. Rosenheim and built from 1936-1938. The concrete, mushroom-shaped canopies, shown at the bottom right, were probably added in the 1960s. [map]
Owl Drug Store
Los Angeles, CA
Mutual Don Lee Broadcast Building
Los Angeles, CA
This former Owl Drug Store was designed by Morgan, Walls and Clements and built in 1934. It is now known as the Julian Medical Building. For more, see this website. [map]

The Mutual Don Lee Broadcast Building was built from 1947-1948. The building now houses the Pickford Center for Motion Pictures. For more, see these websites: 1 and 2. [map]
Hoffman Candy Company
Los Angeles, CA
The Hoffman Candy Company building was built in 1929. It has appeared to be vacant for many years. [map]
former Hattem's Shopping Center
Los Angeles, CA
former E.F. Smith Market
Los Angeles, CA
The former Hattem's Shopping Center was built from 1930-1931. It featured a supermarket, a women's smoking room, a beauty shop, a barber shop, and offices. The details were originally painted green and black. There was a giant "H" sign on top of the tower. In 1961, Pepperdine University bought the building. It was used as the school's administration building. The building now houses a Church of Scientology Community Center. For more, see this website. [map]

This former E.F. Smith Market was built in 1933. It was the eighth in the chain. In 1945, the stores were sold to Jim Dandy Markets. This building was recently used as a JONS Marketplace and a Smart & Final supermarket, It now houses a Goodwill thrift store. For more, see this website. [map]
former Cedars of Lebanon Hospital
Los Angeles, CA
The former Cedars of Lebanon Hospital was built in 1930. The building has housed the Church of Scientology since 1977. In 2010, the church restored the building and painted it blue. For more, see this website. [map]
Merrick Building
Los Angeles, CA
2015:
2023:
The Merrick Building is located next door to the former Cedars of Lebanon Hospital shown above. It was designed by C.J. Smale and built in 1930. The building was restored around 2016. [map]
Bob's Automatic Transmissions
Los Angeles, CA
2008:
2014:
The Bob's Automatic Transmissions building was built in 1936. This is obviously not the original tenant. Does anyone know what business was here originally? For more, see this website. [map]
former Big Town Market
Los Angeles, CA

This building housed the Big Town Market. It appears to be from the 1940s. The building originally had two towering pylons. I believe the part of the building on the left was built much later in the same style. For more, see these websites: 1 and 2. [map]
Selig Retail Store
Los Angeles, CA

2012:
2020:
The Selig Retail Store was built in 1931 as a clothing store. It was remodeled somewhat in 1938 when Crocker-Citizens National Bank moved into the building. [map]
Los Angeles Times
Los Angeles, CA
The Los Angeles Times building was designed by Gordon B. Kaufmann and constructed in 1935. There have been additions in the 1940s and 1970s. For more, see this website. [map]
Garfield Building
Los Angeles, CA
The Garfield Building was designed by Claud Beelman and built from 1928-1930. It was originally built for the Sun Realty Company. For more, see this website. [map]
Park Plaza Hotel
Los Angeles, CA
The Park Plaza Hotel was built in 1925 as an Elks Temple. It was restored and converted into the hotel in the late 1990s. For more, see these websites: 1, 2, 3, and 4. [map]
RoadsideArchitecture.com

Copyright. All photos at this website are copyrighted and may only be used with my consent. This includes posting them at Facebook, Pinterest, blogs, other websites, personal use, etc.

Tips & Updates. If you have suggestions about places that I haven't covered, historical info, or updates about places/things that have been remodeled or removed, I'd love to hear from you: roadarch@outlook.com.