(hit "refresh" to get the most recent version of this page; click on photos for larger images)
Blue Ridge Pig
Nellysford, VA
Oink Joint [gone]
Birch Run, MI
The Blue Ridge Pig restaurant features this pig statue which is installed on a pole by the road. The pig was built by Mark Cline in 1985 for Dick's Barbeque in Stuarts Draft, VA. The restaurant closed and the pig disappeared. By 1992, the pig statue was installed at the Blue Ridge Pig. In 2015, a car hit the pole and the fiberglass pig was badly damaged. Cline restored the statue. [map]

The Oink Joint was a temporary transformation of the former Ken's Diner for the 2008 filming of the movie "Whip It". This foam pig was installed on the roof during the shooting. It was about 18 feet long and is probably made of fiberglass. After the filming, the place operated as the Oink Joint for a while. By 2011, the diner was housing El Indio de Tijuana and the pig statue was gone. [photos thanks Mark Comstock]
Flag-Holding Pig
Cincinnati, OH
Greene's Bar-B-Q [gone]
Columbia, SC
Poole's Bar-B-Q
East Ellijay, GA
The Flag-Holding Pig is installed on the roof of the SpringDot Building next to I-75. The pig is dressed like Superman or Underdog. The statue might have been created in 2000 during the Big Pig Gig public art exhibit. Flying pigs are a symbol of Cincinnati which is nicknamed "Porkopolis." This statue has apparently fallen over and is laying on the roof in 2023. For more, see this website. [map]

The Greene's Bar-B-Q pig was a wood carving. These photos are from 2009. By 2014, the restaurant had closed and the statue was gone.

Poole's Bar-B-Q is as well known for its Pig Hill of Fame as its food. The restaurant started out as a roadside shack in 1989. This pig statue is located on the roof at the restaurant's entrance. [map]
The Bar B Q Pit pig statue is a wood carving. The restaurant opened in the early 1970s. I don't know when the statue was created. These photos are from 2014. By 2021, the statue had been repainted. [map]
Piggly Wiggly
Andalusia, AL
Piggly Wiggly
Milton, FL
This Piggly Wiggly statue in Andalusia is probably modern. There was a Piggly Wiggly store there until 2008. The building now houses Fletchers Outdoors store but the statue remains. [map]

This Piggly Wiggly location in Milton opened around 2013. The statue was installed in 2019. [map]

There is another Piggly Wiggly statue in Erin, TN which has been there since at least 2013.
Giant Pig
Dothan, AL

2010:
2020: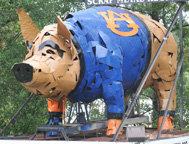 This Pig was built around 1967 by Larry and Ronald Godwin. The pig is 26 feet long by about 13 feet tall and made from scrap steel. The pig's head used to move from side to side. The sculpture was created for a feed mill. The sign originally read "Going Whole Hog for Bob's Feeds". Later, the sign read "Monument to the Hog". The pig is now owned by Schnitzer Southeast, a scrap metal recycling company. The "Save the Pig" sign was just a gimmick to draw attention to the business. In recent years, the statue is repainted in either Auburn University or the University of Alabama colors, depending on which team wins the Iron Bowl football game that year. For more, see these websites: 1 and 2. [map]
Giant Piggy Banks [gone]
McClure, IL (also Memphis, TN)
These Giant Piggy Banks are installed at The Pony, a strip club. They were created in 2002 by Turtle Transit. The pigs are made of fiberglass. There is also an oinking soundtrack. The pigs were commissioned for the True Majority by Ben Cohen of Ben & Jerry's ice cream fame, to protest the Pentagon's budget surplus. The larger piggy bank represented the Pentagon budget while the smaller ones represented the budget for education and world hunger. The mobile pigs were paraded around the Northeast, Florida, Iowa, and probably other states. I don't know how or when they wound up in Illinois. I believe the pigs were still in use by the True Majority in 2007. That year, the organization merged with USAction. So, the pigs were probably sold at that point. According to the management at The Pony, they bought the pigs around 2007, possibly from a barbecue restaurant. In 2015, the pigs were driven to Memphis to The Pony's other location for the Memphis in May festival. However, recent Google Street View maps don't show these Piggy Banks at either location. For more, see these websites: 1 and 2.
Piggy Bank
Hatch, NM
2012:
2017:
This Piggy Bank advertises for Sparky's restaurant. The 15-foot-tall fiberglass statue was installed in 2010. After a legal battle with the city, the pig was granted a sign exemption and was allowed to remain. Around 2016, the pig was moved across the street from Sparky's with several other statues. [map]
Petal & Piglets [gone]
Sioux Falls, SD
Babe [gone]
Sioux Falls, SD
Razorback Hog [gone]
Benton, AR
Petal & Piglets and Babe were part of the 2008 Sculpture Walk downtown. These photos are from 2008. Petal & Piglets was created by Carrie Quade. Babe is the work of Mary Zimmerman. I believe both of these sculptures are gone now.

There were two of these small Razorback Hog statues installed on poles in front of I-30 Concrete & Sales. The business had closed but these were still there in 2019. They were gone by 2022. The University of Arkansas in Fayetteville uses the razorback hog as its mascot. Images of "Big Red" appear throughout Arkansas.
Truffles
Colorado Springs, CO
The bronze sculpture of Truffles was created by Walt Horton in 2007. It was installed at this location by 2014. [map]
RoadsideArchitecture.com

Copyright. All photos at this website are copyrighted and may only be used with my consent. This includes posting them at Facebook, Pinterest, blogs, other websites, personal use, etc.

Tips & Updates. If you have suggestions about places that I haven't covered, historical info, or updates about places/things that have been remodeled or removed, I'd love to hear from you: roadarch@outlook.com.