(hit "refresh" to get the most recent version of this page; click on photos for larger images)
Nick & Ivy's Country Diner
Alpena, MI
Nick & Ivy's Country Diner is housed in a 1955 O'Mahony. The diner was located in Wilkes-Barre, PA until it was moved here and restored in the late 1990s. It operated as Al's Diner until 2001. It became Nick & Ivy's Country Diner in 2007. It is now known as Nick's Southside Diner. The Al's Diner sign remained on the roof when these photos were taken in 2011. By 2015, the sign was gone and there was a gabled roof on top of the diner. [map]
El Indio de Tijuana
Birch Run, MI
The El Indio de Tijuana restaurant occupied a 1955 O'Mahony diner. The diner was originally located in Yorkville, NY. It was damaged in a fire in 1992. In 1993, it was moved here and operated as the Varsity Diner. From 2004-2007, it operated as Ken's Diner. In 2008, the diner was used for the filming of "Whip It" where it named the Oink Joint. After the movie, the diner reopened using the Oink Joint name. In 2010, the diner became El Indio de Tijuana. These photos are from 2011. In 2012, La Placita Mexican Restaurant opened here. By 2014, the diner was vacant. It is now housing the Comet Classic Diner & Creamery. For more, see this website. [map]
Lamy's Diner
Dearborn, MI
Lamy's Diner is a Worcester (#789) that was built in 1946. It was originally located in Marlboro, MA. In the 1980s, it was purchased by the Henry Ford Museum. In 2011, it was announced that the museum plans to start serving food in the diner again. For more, see these websites: 1, 2, and 3.
West Bay Diner
Grand Marais, MI

The West Bay Diner is a 1949 Paramount. It was originally located in Matamoras, PA. After that the diner spent many years in storage in both Cambridge, NY and Rockford, MI until it was moved here in 1997. For more, see this website. [map]
Pal's Diner (later Dan's Diner)
Grand Rapids, MI (now Muskegon, MI)
Pal's Diner is a Manno diner from 1952. It was originally located in Mahwah, NJ and moved here in 1993. These photos are from 2006 and 2011. In 2018, the name was changed to Dan's Diner. The neon letters above the entrance were replaced with new similar letters. Dan's closed in 2020. In 2021, the diner was sold and moved to the Hot Rod Harley-Davidson dealership in Muskegon, MI. The Pal's lettering will be restored. For more, see these websites: 1 and 2.
George & Sally's Blue Moon Diner
Hickory Corners, MI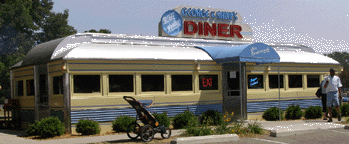 George & Sally's Blue Moon Diner is a 1941 Silk City. It operated in Meriden, CT until 1997 as the Blue Moon Diner. In 2003, it was restored in Cleveland, OH and moved here to the Gilmore Car Museum in 2004.
RoadsideArchitecture.com

Copyright. All photos at this website are copyrighted and may only be used with my consent. This includes posting them at Facebook, Pinterest, blogs, other websites, personal use, etc.

Tips & Updates. If you have suggestions about places that I haven't covered, historical info, or updates about places/things that have been remodeled or removed, I'd love to hear from you: roadarch@outlook.com.