(hit "refresh" to get the most recent version of this page; click on photos for larger images)
Ladybug
Lakeville, MN
Ladybugs
Milwaukee, WI
This Ladybug is located at Hot Sam's Antiques. The statue had a different paint job in 2011. This photo is from 2012.

These Ladybugs adorn the building which houses the Ladybug Club. This nightclub opened in 2005. The ladybugs are lit up at night. For more, see this website. [map]
Giant Spider, Ant & Dragonfly
Albuquerque, NM
These Giant Spider, Ant & Dragonfly sculptures are located in the Children's Fantasy Garden at the ABQ Biopark Botanic Garden. The garden opened in 2001.
Giant Caterpillar
Davis, CA
This Giant Caterpillar was created by Solomon Bassoff and Domenica Mottarella. It was installed in Central Park in 2010. The eight-foot-long sculpture depicts a Monarch butterfly caterpillar wearing shoes and socks. It is made from cement over steel and wire. A naming contest was held and the statue is now known as Bellapede. For more, see this website. [map]
Giant Dragonfly
Reno, NV
This Giant Dragonfly is installed in Virginia Lake, a man-made lake from the 1930s. The sculpture was created by Peter Hazel and installed in 2018. For more, see this website. [map]
Giant Ant
Tulare, CA
Giant Ants [gone]
Tulare, CA
This Giant Ant is located in front of the Res-Com Pest Control Company. Res-Com was established in 1985. I don't know when this mascot was developed. [map]

These Giant Ants were installed on the back of the Galaxy Theatres building which faces Highway 99. They advertised for the Res-Com Pest Control Company. They had been there since at least 2008. They were removed in 2015.
More Ants:
Leeds, AL
Burbank, CA [gone]
Grand Junction, CO
Pomfret, CT [gone]
Merriam, KS
Shwawnee, KS
Cave City, KY
Faribault, MN
Wall Township, NJ [map]
Philadelphia, PA
Cedarburg, WI
Hercules Beetle
Colorado Springs, CO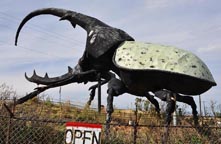 This Hercules Beetle was built in 1958 for the May Natural History Museum. It is 17 feet long and nine feet tall and made of fiberglass and steel. The sculpture and museum moved to Weeki Wachee, FL for a few years. In the early 1960s, they returned to this site. For more, see these websites: 1, 2, and 3. [map]
Boll Weevil Monument
Enterprise, AL
The Boll Weevil Monument depicts a Greek woman holding aloft a bowl supporting a giant boll weevil. The marble statue was erected in 1919 to memorialize Enterprise farmers' decision to diversify their crops as the boll weevil was wreaking havoc on cotton fields in the South. The switch to peanuts, potatoes, and other crops led to the town's success. Originally, the statue held a fountain. Around 1949, the boll weevil was added. After the boll weevil and the statue itself were stolen repeatedly by vandals over the years, the memorial was replaced with a replica in 1998. The damaged, original statue is displayed at the Depot Museum. For more, see these websites: 1, 2, 3, and 4. [map]
Mosquito
Effie, MN
This Mosquito sculpture is about six feet long. It has been here since at least 2003. [map]
Mosquito [gone]
Cambridge, MD
This Mosquito was about 15 feet long and six feet tall. It was made of wire, appropriately enough by the Maryland Wirebelts Company. The company was later known as Cambridge International. The sign and mosquito were previously located in Church Creek, MD and then moved when the factory relocated here. By 2018, the company and mosquito were gone.
This metal Mosquito is 18 feet long. It is located inside the Lee County Mosquito Control office.
Spider
Austin, TX
Spider
Denver, CO
Spider
Los Angeles, CA
This Spider in Austin sculpture is 23 feet tall. Entitled "Arachnophilla", it was created by Dixie Fried Gay and installed in 2008. [map]

This Spider in Denver was installed in front of a house in 2015. [map]

This Spider in Los Angeles is installed on the facade of Hollywood Toys & Costumes. It has been here since at least 2008 and may be much older than that. [map]
Spiders
Harrison, AR
Tarantula
Morgan Hill, CA
These Spiders in Harrison were installed sometime after 2017. The building houses High Tech Service, a pest control business. [map]

This Tarantula is installed on the side of a parking garage. The 16-foot-wide sculpture was created by Gordon Huether and installed in 2016. The body of the tarantula is made from headlights which are lit at night. [map]
Spider
Woodstock, GA
This Spider is installed on the roof of Bug Busters USA. It has been there since at least 2007. [map]
Flies
St. Pete Beach, FL
Bug [gone]
Paradise, CA
These Flies have been installed on the side of this building since at least 2008. They were created by Paul Eppling. For more, see this website. [map]

This Bug sculpture was located at the former Skyway Lodge Motel. The motel was surrounded by chain link fencing when these photos were taken in 2015. The Bug had been there since at least 2007. By 2018, the Bug was gone.
This Cootie statue is a reproduction of the children's toy. The statue is 15 feet tall and was originally a float in the 1975 Macy's Day Thanksgiving parade. After that, the statue was installed at the Capitol Children's Museum in DC. That museum closed in 2004 and was moved to American Celebration on Parade. For more, see this website. [map]
More Insects:
Big Bugs (traveling exhibit)
RoadsideArchitecture.com

Copyright. All photos at this website are copyrighted and may only be used with my consent. This includes posting them at Facebook, Pinterest, blogs, other websites, personal use, etc.

Tips & Updates. If you have suggestions about places that I haven't covered, historical info, or updates about places/things that have been remodeled or removed, I'd love to hear from you: roadarch@outlook.com.