(hit "refresh" to get the most recent version of this page; click on photos for larger images)
Horse
Reno, NV
Horse
Mondovi, WI
Horse [gone]
Gansevoort, NY
This Horse sculpture in Reno was created by Barry Crawford. It is entitled "Rearing Horse" and was built from machinery parts. It was originally installed in 2018 at the Burning Man festival. It is now located in front of Glow Park. The sculpture is kinetic with cranks on the perimeter fence than enables visitors to move the horse's front legs, mane, tail, neck, and ears. For more, see this website. [map]

This Horse statue in Mondovi is located near Lazy L Tack & Trailer Sales. [map]

The concrete Horse statue in Gansevoort stood in front of a house next door to the Crest Inn. These photos are from 2011. By 2014, the statue had been painted white. In 2016, the horse was painted black. In 2018, the statue was painted purple. In 2020, the statue was gone. The house and motel were boarded up.
Horse
Victorville, CA

2017:
Horse
Fontana, CA
2020:
2022:
This Horse statue in Victorville was installed in front of Pancho Villa's Fresh Grill & Tequila in 2012. Around 2021, the restaurant was renamed PV's Fresh Grill & Tequila. The horse was repainted black with white stockings. [map]

This Horse statue in Fontana is located in front of the Viva Villa Taqueria. It is identical to the Victorville statue. It is also painted black now. [map]
Shire Horses
Elk Grove, CA
Gentle Giant
Grass Valley, CA
These Shire Horses were created by Todd Andrews and installed at a housing developing on Shire Oaks Lane in 2005. The bronze sculptures are a larger-than-life mare and colt. [map]

This bronze Gentle Giant sculpture was also created by Todd Andrews. It was built in 1996 and installed at the Nevada County Fairgrounds. The draft horse sculpture is 44 feet long. For more, see this website. [map]
Hubbard Museum of the American West
Ruidoso Downs, NM
The Hubbard Museum of the American West features eight realistic galloping horses. There are seven different breeds represented. The painted bronze statues are one-and-a-half times life-size. In the entire group, there are only nine hooves touching down. The sculpture was installed in 1995 and is entitled "Free Spirits at Noisy Water". It was created by Dave McGary. For more, see this website. [map]
The Mustangs
Ivins, UT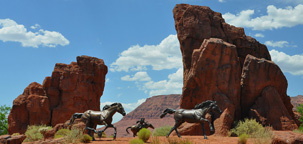 The Mustangs was created by Edward Hlavka. The five bronze statues were installed in 2010. One of the horses is ridden by a Native American. [map]
Zenyatta
Arcadia, CA
John Henry
Arcadia, CA
Seabiscuit
Arcadia, CA
These three, bronze racehorse sculptures are located at Santa Anita Park. The Zenyatta sculpture was created by Nina Kaiser and installed in 2012. The John Henry sculpture was also created by Nina Kaiser and installed in 2009. The Seabiscuit sculpture was created by Jame Hughlette Wheeler and installed in 1941. For more, see these websites: 1, 2, and 3. [map]
More Horses:
Glenwood, GA
Cedar Rapids, IA
Metamora, IL
Metamora, IL
Lexington, KY
Boonville, MO
Nags Head, NC [map]
Zanesville, OH
Bensalem, PA
Ramsey, NJ
Saratoga Springs, NY [map]
Wellington, OH
Dalhart, TX
Dallas, TX
El Paso, TX
Fairfax, VA
Vantage, WA
St. Francois Xavier, MB
location unknown [International Fiberglass photo thanks Terry Nelson]

Cowboys & Horses (various cities)
Dala Horse
Cloquet, MN
Dala Horse
Mora, MN
These giant Dala Horses are replicas of the Dalecarlian horses which are hand-carved in Mora, Sweden. These horses were originally children's toys. Over time, they became a Swedish symbol. For more, see this website.

The Dala Horse in Cloquet stands in front of Bergquist Imports, a Scandinavian gift shop. [map]

The Dala Horse in Mora is 22 feet tall and 17 feet long. The statue was produced by FAST Fiberglass. It was installed in 1971. For more, see this website. [map]
Dala Horse
Albert City, IA
Dala Horse
Lindsborg, KS
There are two Dala Horses in Albert City. One serves as a welcome sign at the entrance to town and another is installed on a trailer. [map]

These Dala Horses in Lindsborg are just two of the many fiberglass statues scattered around town. They were mass-produced in 2000 as a local art project, each one with different paint. For more, see these websites: 1, 2, 3, and 4. [map]
Zebras
Port Huron, MI
Zebra
Fort Smith, AR
Zebra
Tulsa, OK
These Zebra statues are installed on the roof of the Zebra Bar at the Bowl-O-Drome. For more, see this website. [map]

The Zebra in Fort Smith is installed at the Park at West End. [map]

The Zebra in Tulsa is located on the roof of Dong's Guns, Ammo and Reloading. It has been there since at least 2007. Unlike the other zebra statues shown above, this one is a horse statue painted with stripes. [map]
Burro
Hillsboro, ND
Mule
Henry, SD
Mule
Muleshoe, TX
This Burro in Hillsboro was created by the Concrete Machinery Co. It has been located downtown since at least 2008. The high school sports teams' mascot is the burro. [map]

This Mule in Henry is a companion to a Giant Pheasant statue. These cement statues were created in 1950 for Tinkertown which no longer exists. For more, see this website. [map]

This Mule in Muleshoe is known as Old Pete. This fiberglass statue was installed downtown in 1965. It was sculpted by Kevin Wolf and produced by Fiberglass Menagerie of Alpine, CA. [map]
This Donkey sculpture was created by Chris Budzin. It is installed on a residential street with an elephant statue which was also created by Budzin. [map]
Mule
Nederland, TX
Mule
Hesperia, CA
Twenty Mule Team
Boron, CA
The Mule statue in Nederland is located at R.C. Services, a construction fasteners and tools store. The Mule was installed around 2015 and is known as "Big Red." [map]

The Mule statue in Hesperia is located at Main Street Collectors which produces and sells all sorts of fiberglass statues. [map]

This Twenty Mule Team is located at the Borax Visitor Center. The statues were probably installed in 1997 when the Visitor Center opened. There are also animatronic mule statues inside. For more, see this website. [map]
Twenty Mule Team
Oakland, CA
A Twenty Mule Team statue group was produced by International Fiberglass in 1969. It was installed at Park Boulevard Recreation Center, a mining town themed playground. It was a tribute to F.M. Smith, a prominent resident who made his fortune from borax mining. By the 1970s, the playground was in bad shape. The buildings had been destroyed and the mules were damaged by vandals or stolen. The remaining four mule statues still remain at the renamed F.M. Smith Park. I don't know if the grave marker for "Smokey" is for a real mule or if it was just a decorative piece from the original playground. For more, see this website. [map]
This limestone Jackass sculpture was carved in place by Jake Dobscha. It was installed in 2021 in front of the Stix Icehouse. The property is owned by a City Council member who was fined for cutting down trees. This sculpture, entitled "Laughing My Ass Off", was created in response to that. For more, see this website. [map]
Pegasus
Gillette, WY
Pegasus
Deadwood, SD
Pegasus
Beloit, KS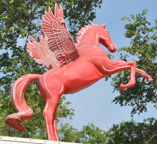 These modern, aluminum Pegasus statues are horses with wings attached, inspired by the Mobilgas logo.

This Pegasus statue in Gillette is installed in front of the Frontier Auto Museum around 2016. [map]

This Pegasus statue in Deadwood is located at the Antique Emporium. [map]

This Pegasus statue in Beloit was installed on the roof of Brummer Supply Co. around 2017. [map]
RoadsideArchitecture.com

Copyright. All photos at this website are copyrighted and may only be used with my consent. This includes posting them at Facebook, Pinterest, blogs, other websites, personal use, etc.

Tips & Updates. If you have suggestions about places that I haven't covered, historical info, or updates about places/things that have been remodeled or removed, I'd love to hear from you: roadarch@outlook.com.