(hit "refresh" to get the most recent version of this page; click on photos for larger images)
Indian Oaks Cabins
Theodosia, MO
Indian Harvest Trading Post
Union, MO
Arrowhead Motel [gone]
Whittier, NC
The Indian Oaks Cabins has a small cement teepee.

The Indian Harvest Trading Post sells Native American arts and crafts. Let the visitor beware: the owners have quite a reputation for being unwelcoming. [map]

The Arrowhead Motel teepee might have been used as a storage shed. It was still there in 2018 but gone by 2021. The motel is still there.
Jerome's Tepee [gone]
Grand Island, NE
former Westward Ho!
Campground [gone]
Milford, NE
Jerome's Tepee claimed to have the largest souvenir shop in the state. The tepee was torn down when a car crashed into it in the 1970s, damaging it beyond repair.

The former Westward Ho! Campground featured this teepee as part of its Milford Inn. There were two of these structures originally. One had restrooms with showers while the other was used as a spare motel room. This teepee disappeared between 2013 and 2014. For more, see this website.
Husker Hut
Atlanta, NE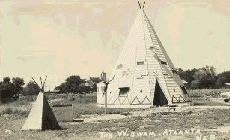 The Husker Hut was built as "The Wigwam" which was a souvenir stand. The building has been around since at least the 1950s or 1960s. The Husker Hut bar and restaurant were added later to the original structure. These photos are from 2006. I believe the building is vacant now. For more, see this website. [map]
Cherokee Trading PostBudd Lake, NJ
The Cherokee Trading Post opened around 1945. The store closed in 2016. The teepee is still there but the Indian and horse statues are gone. The building now houses a bedding and furniture store. [map]
Cactus Cove Gift Shop
Roswell, NM
Apache Canyon
Trading Post
Carlsbad, NM
This teepee in Roswell is installed in front of Cactus Cove Gift Shop. [map]

This teepee is one of two in Carlsbad is located at the long-closed Apache Canyon Trading Post. [map]
TeePee Curios
Tucumcari, NM
TeePee Curios opened as a Gulf gas station, grocery store, and souvenir shop in 1944. During road expansion in 1959, the teepee-shaped entrance was added and the gas pumps were removed. The neon sign was built in the mid-1960s. It was restored in 2003, based on a vintage photo. Shortly thereafter, a neon longhorn skull was installed over the building's entrance. The souvenir shop is still open. For more, see these websites: 1 and 2. [map]
The TePeeCherry Valley, NY
The TePee was built in 1950 by Ken and Iris Gurney. They still run this souvenir shop. It was actually on old Route 20 (the entire highway relocated) and moved when it did. The teepee was rebuilt on a larger scale at that point. It is 50 feet tall and 42 feet wide. There used to be a stuffed horse but that has been replaced with a fiberglass buffalo. The teepee used to have a metallic finish but it was painted light yellow in 1997. Somewhere between 2002 and 2004 (the middle and bottom photos), the lacing was painted on the front of the building. For more, see these websites: 1 and 2. [map]
Peace Pipe Cottages [gone]
Diamond Point, NY
TeePee Trading Post
Lake George, NY
The Peace Pipe Cottages teepee was made of canvas rather than concrete and was part of a children's playground. I believe it is gone now.

The TeePee Trading Post is faced with concrete. It is used for storage for the adjacent souvenir stand. Does anyone know when this was built? For more, see this website. [map]
RoadsideArchitecture.com

Copyright. All photos at this website are copyrighted and may only be used with my consent. This includes posting them at Facebook, Pinterest, blogs, other websites, personal use, etc.

Tips & Updates. If you have suggestions about places that I haven't covered, historical info, or updates about places/things that have been remodeled or removed, I'd love to hear from you: roadarch@outlook.com.