(hit "refresh" to get the most recent version of this page; click on photos for larger images)
Bambi Cleaners
Philadelphia, PA
Termini Brothers
Philadelphia, PA
Etkin's Cleaners
Philadelphia, PA
The Hair Pair [gone]
Philadelphia, PA
Bambi Cleaners was established in 1955. However, this is not their original location. It is estimated that this building and sign are from the late 1950s or early 1960s. Since this photo from 2010, the plastic ball on the left is gone and the middle one is askew. [map]

Termini Brothers, an Italian bakery, opened in 1921. The bakery moved across the street to its current location in 1938. The stainless steel facade is from then as are the wooden cases and tile floor inside the building. The 20 foot tall porcelain and neon sign is from 1940. Termini Brothers now has three other locations in Philadelphia. For more, see this website. [map]

Etkin's Cleaners is still in business. The Dairy Maid store next door is gone but the sign remains. These signs are probably from the 1950s. [map]

The Hair Pair opened in 1976. I believe this window sign is older than that. The animated neon alternates between "Before" (with hair) and "After" (without hair). The sign is now in the private collection of Len Davidson.
Chubby's Steaks [gone]
Philadelphia, PA
Chadmoore Formal Wear [gone]
Philadelphia, PA
Chubby's Steaks is known for its cheese steaks. While the business is still there, this sign was replaced with a plastic one in 2007. I'm told that this sign was built in the 1980s but it looked older to me.

Chadmoore Formal Wear opened here in 1963. This sign was probably built then. This photo is from 2006. By 2007, the store had moved and these signs were gone. For more, see this website.
Boot & Saddle Bar
Philadelphia, PA
Philip's
Italian Restaurant
Philadelphia, PA
Sun Ray Drugs [gone]
Philadelphia, PA
Philco [gone]
Philadelphia, PA
The Boot & Saddle night club opened in 1969 and this sign is from then. It is about 20 feet tall and eight feet wide. The Boot & Saddle closed in 1995. It finally reopened in 2013. In 2015, the sign was taken down for restoration by Len Davidson. The panels were too far gone and replicas had to be created. The channel letters and tubing were also recreated. The new sign was installed in 2016. For more, see this website. [map]

Philip's Italian Restaurant and sign were built around 1942. The restaurant has been closed since around 2002 but this sign remains. For more, see this website. [map]

This Sun Ray Drug Co. store was once part of a 150-store national chain. This sign has been replaced since the store is now Sun Pay, a beauty supplies and check cashing place. For more, see this website.

This Philco sign hung above a vacant storefront when this photo was taken in 2010. This sign was still there in 2012 but gone by 2017. These plastic signs were mass-produced and used at radio and TV stores and repair shops. For more, see this website.
former Clearview Dry Cleaners [gone]
Philadelphia, PA
The former Clearview Dry Cleaners featured a full wrap-around neon sign around their building. There appeared to have been a clock in the metal portion above the door. A church occupied the building when these photos were taken in 2004. By 2010, the signs were gone.
Tastykake Bakery [gone]
Philadelphia, PA
The Tastykake Bakery sign is on top of the company's production building. The clock on the billboard was still functioning when these photos were taken in 2010. Tastykake was founded in Philadelphia in 1914 and I believe this building is from the same year. By 2015, the sign had been covered up with a sign for U-Haul.
Stein Your Florist
Philadelphia, PA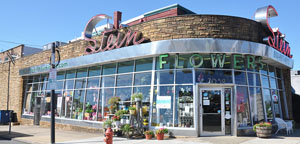 Stein Your Florist's original store opened in Philadelphia in 1886. This location opened in 1948. The facade was designed by George W. Neff and added in 1950. The signs are from around 1955. In 2001, there was an extensive fire that gutted most of the interior. The owners decided to stay and rebuild. [map]
Levis Hot Dogs [gone]
Philadelphia, PA
Reading Terminal Market
Philadelphia, PA
Pat's King of Steaks
Philadelphia, PA
McGillin's Old Ale House
Philadelphia, PA
The Levis Hot Dogs sign is from the 1950s. It was part of a larger sign. It is not known what happened to the upper and lower text parts of the sign. The hot dog sign which is owned by Len Davidson was moved to a temporary space in 2012. It has now been moved back into storage.

This Reading Terminal Market sign is ten feet tall. The sign was built around 1945. It was removed in 1990 because of its poor condition. The sign was restored by Davidson in 2010 and reinstalled on the building. The text and arrows flash at night. For more, see this website. [map]

This Pat's King of Steaks sign was built in 1952. This crown panel was part of a larger sign. This crown is on loan from Len Davidson and on display inside Jack's Firehouse restaurant. Davidson has the other part of the sign in storage. Pat's King of Steaks still uses the crown in its logo. In 2014, a new neon sign was installed. For more, see these websites: 1 and 2.

This McGillin's Old Ale House sign is a modern replica. The original 1950s sign is at the Center for Architecture (see below). [map]
Center for Architecture
Philadelphia, PA
These are some of the signs on display at the Center for Architecture. They were restored by Len Davidson and are on loan from him. These signs have been here since 2008. For more, see this website.
Fidelity Drive-in Cleaners
Philadelphia, PA
2003:
2010:
The Fidelity Drive-in Cleaners opened sometime in the 1950s. By 2010, the sign had been replaced by a plastic box sign. This business still has a car turntable which is no longer in use. Customers would drive in to drop-off or pick-up their laundry and the management pushed a button to spin their car around. I believe this concept was developed in the early 1950s for businesses with limited parking space. There are a few of these left inside former car showrooms which used them to revolve cars around in their display windows. If you know of any other turntables still in existence, I'd love to hear about them. [map]
RoadsideArchitecture.com

Copyright. All photos at this website are copyrighted and may only be used with my consent. This includes posting them at Facebook, Pinterest, blogs, other websites, personal use, etc.

Tips & Updates. If you have suggestions about places that I haven't covered, historical info, or updates about places/things that have been remodeled or removed, I'd love to hear from you: roadarch@outlook.com.