(hit "refresh" to get the most recent version of this page; click on photos for larger images)
Belmont
Furniture
House
St. Clair, MO
Wing Printing
St. Joseph, MO
IBEW
Electrical Workers
St. Joseph, MO
The Belmont Furniture House sign is probably from the 1930s or so. [map]

The Wing Printing Co. was established in 1912. This sign is probably from the 1940s or 1950s. [map]

This IBEW Electrical Workers union office is still located here. This sign is probably from the 1950s. [map]
Yellow Cab Co. [gone]
St. Joseph, MO
Wright's Jewelry Co.
St. Joseph, MO
This Yellow Cab Co. location was long-gone but this sign remained for many years. It was gone by 2018. I believe these signs were mass-produced but I don't know of any others like this that are left.

Wright's Jewelry Co. has been closed since at least 2008 but these signs remain. The clock is surrounded by a neon ring. For more, see this website. [map]
Bucket
Shop [gone]
St. Joseph, MO
Terrible's
Casino [gone]
St. Joseph, MO
Pony Express Motel
St. Joseph, MO
The Bucket Shop restaurant had been around since at least the 1940s. This sign was probably from the 1950s. Around 2009, a new owner renamed the place Little Boudreaux's Bucket Shop. At that point, the sign was restored and the wording was changed slightly. This photo is from 2010. By 2013, the business and sign were gone. For more, see this website.

Terrible's Casino opened in 1994. I assume this sign was from then. This photo was taken in 2010. The place is now known as the Frontier Casino and this sign is gone. There was another sign like this one at the Terrible's Casino in Osceola, IA.

The Pony Express Motel sign has been through a few iterations over the years. I believe the motel was built around 1960. In the early 1960s, the sign was half this size. A panel with the name of the motel was located beneath the galloping horse. The sign was rebuilt in the mid-1960s to its current look. For awhile, there was a Best Western logo on top of the sign. The motel was demolished in 2006 for a shopping center. The sign was saved, restored, and installed in 2008 at the Pony Express Museum in town. St. Joseph is where the Pony Express began. For more, see these websites: 1, 2, 3, and 4. [map]
Speedy's Convenience
St. Joseph, MO
Don Bisig's Barber Shop [gone]
St. Joseph, MO
Olympia Lanes [gone]
St. Joseph, MO
Don Bisig's Barber Shop opened in 1962. Around 2018, the business closed and the sign is now gone. For more, see this website.

The Olympia Lanes sign was probably from the 1950s. In 2016, the sign was adapted for Natural Grocers. The bowling pin was replaced with an apple. For more, see this website. [map]
5 & 50 Drive-in
Tipton, MO
Chevrolet and Buick signs
Tipton, MO
Sunset Motel
Villa Ridge, MO
The 5 & 50 Drive-in has been here since at least the 1960s. For more, see this website. [map]

These Chevrolet and Buick signs are installed at the Hainen used car dealership. This was previously the Hainene Chevrolet and Buick dealership. The signs are protected by plexiglass. For more, see these websites: 1 and 2. [map]

The Sunset Motel opened in 1946. The sign is probably from then. The neon was restored in 2009. It had not been lit since the 1970s. The motel rooms are used for apartments now. For more, see this website. [map]
Gardenway Motel [gone]
Villa Ridge, MO
Diamond Inn Motel, Diamonds Restaurant & Gardenway Motel
Villa Ridge, MO
The Gardenway Motel opened in 1945 and the pole sign might have been from then. The name came from this portion of Route 66 which was previously known as the Henry Shaw Gardenway. The letters on the roof were added in 1960. The motel has been closed since 2014. By 2018, a few of the letters on the roof had fallen over and were damaged. By 2019, the pole sign's glass block had been vandalized and broken. The sign panels were removed and put in storage. For more, see these websites: 1, 2, and 3. [map]

The Diamonds Restaurant was built in 1927. It was built in the shape of a baseball diamond. The restaurant was rebuilt in 1948 after a fire. It moved to a new location in 1967 and eventually closed in the mid-1990s. In 2015, it was announced that the building would soon house the Diamonds Trading Post, an auction house.

The Diamond Inn Motel became a Travelodge. [map]

Although only the Gardenway Motel survives, two signs still advertise for the Gardenway, the Diamonds Restaurant and the Diamond Inn Motel. These photos are from 2010. In 2013, the Diamonds Restaurant letters were removed from the sign shown above on the lower right. For more, see these websites: 1 and 2. [map]
Lake Hills Motel
Warsaw, MO
Old Dutch Hotel
Washington, MO
Bank of Washington
Washington, MO
Western Auto
Associate Store [gone]
Washington, MO
Parmentier Auto Body
Washington, MO
The Lake Hills Motel sign appears to be from the the 1950s. [map]

The Old Dutch Hotel was established in the early 1930s and operated until the late 1970s. After opening and closing several times with different owners, the Old Dutch closed for good in the early 1990s. After completely renovating the building in 2010, new owners have revived both the hotel, tavern, and sign. Nearly $5,000 was spent on the restoration of the sign which is believed to be the original. At first, the six foot tall sign read "Old Dutch Tavern". The lettering was later changed to "Old Dutch Hotel", possibly when a third floor was added to the building. The sign is lit in the original red, white and blue color scheme. The blades of the windmill are lit sequentially to create a spinning effect. This photo is from 2010, before the restoration. For more, see these websites: 1 and 2. [map]

This Bank of Washington sign was originally attached to a building. When a new bank building was constructed, this sign was saved. Around 2009, the sign was restored and installed in the parking lot nearby. For more, see this website. [map]

These Western Auto Associate Store signs were mass-produced and there are still a number of them around the country. This sign was gone by 2018. Many of these stores are still in business. Western Auto, an auto parts company, was established in Kansas City, MO in 1909. The company opened its first store in 1921. Western Auto grew to more than 1,200 company-owned stores and 4,000 associate stores. For more, see this website.

Parmentier Auto Body was established in 1939. This neon car on top of the plastic box sign was built around 2003. [map]
Webster Record Shop [gone]
Webster Groves, MO
Sky Bank [gone]
Wellston, MO
The Webster Record Shop opened around 1949 and this sign was built then. When the store moved, this sign was brought along. The store closed in 2012. The sign, now owned by a private collector, is currently on display inside the Purple Cow Antiques store in St. Louis. For more, see this website.

The Sky Bank rooftop sign tower was erected in the late 1940s. In the early 1950s, it became the State Bank. The tower's sign bears both names. The text part of the sign originally revolved. It also had a weather beacon on top. Later, the building housed a Regions Bank but the sign was not altered. The building became vacant around 2006 when the Regions Bank relocated nearby. In 2014, the building was demolished but the sign was salvaged by a private collector. It is now in storage at the St. Louis Building Arts Foundation in Sauget, IL. The sign may be restored and repurposed. For more, see this website.
Sebus Brothers Hardware
Weston, MO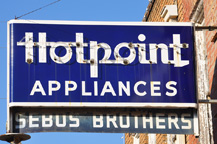 The Sebus Brothers Hardware store was established in 1947. These Hotpoint signs were mass-produced. There are only a few others of this type that I know of. [map]
RoadsideArchitecture.com

Copyright. All photos at this website are copyrighted and may only be used with my consent. This includes posting them at Facebook, Pinterest, blogs, other websites, personal use, etc.

Tips & Updates. If you have suggestions about places that I haven't covered, historical info, or updates about places/things that have been remodeled or removed, I'd love to hear from you: roadarch@outlook.com.