(hit "refresh" to get the most recent version of this page; click on photos for larger images)
Packard Motor Car Building
Philadelphia, PA
The Packard Motor Car Building was designed in 1910 by Albert Kahn. It remained in operation until 1956. The building was converted into luxury apartments in 1985. For more, see this website. [map]
Roman Automobile Company
Philadelphia, PA
The Roman Automobile Company showroom was built in 1916. The company was one of the largest used car dealerships in Philadelphia in the 1910s. These photos are from 2012. In 2016, the building's pediment was covered with a tarp, apparently, to protect pedestrians from possible falling material. The building appears to be vacant. [map]
former Stumbaugh showroom
Spring Grove, PA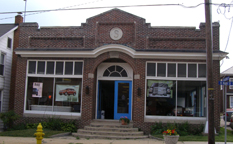 The former Stumbaugh showroom was built in 1921. There was originally a canopy and pumps at the side of the building. The building housed the Marley Gross Ford dealership when these photos were taken in 2007. In 2012, the occupant was Papertown Auto & Cycle Center. [map]
former D. E. Stetler Dodge
York, PA
This D. E. Stetler Dodge dealership was built in 1923. The building has housed the Susan P. Byrnes Health Education Center since 1995. [map]
former showroom
York, PA
This former showroom appears to be from the 1920s. It may have been a Hudson dealership originally. In the 1930s, it was a Nash dealership. The building now houses Junior Achievement's JA BizTown. [map]
former Wissler showroom
Lebanon, PA
former Zeisloft Brothers [gone]
Berwick, PA
The former Wissler showroom once sold Hudson and Essex automobiles. The building has been vacant since at least 2016. [map]

The Zeisloft Brothers dealership was established in 1947 in Bloomsburg. This location opened around 1995. The building previously housed Feissner Ford. This photo is from 2009. Since 2015, the building has housed Ken Pollock Ford. By 2018, the facade had been covered with modern silver panels. [map]
former showroom
Pittsburgh, PA
Day's Baum Boulevard Dodge (now ALDI)
Pittsburgh, PA
This former showroom in Pittsburgh housed a Radio Shack and a Papa John's Pizza when this photo was taken in 2006. By 2014, the building was occupied by Auto Palace Select and the Gallery on Baum. The building's remaining exterior details include winged wheels, nice upper level details, and a bricked-up "Service" entrance. The building is located on Baum Blvd. which was once Pittsburgh's automobile row. [map]

Day's Baum Boulevard Dodge showroom was built in 1934 as the Chrysler Sales and Service Building. It was designed by Albert Kahn. The corner cylindrical tower, originally floodlit at night, was a recurring element in Kahn's Chrysler designs. From 1957-1958, the building's occupant was Baum-Melwood Edsel. Baum Boulevard was once Pittsburgh's automobile row. This photo is from 2006. In 2012, the building was adapted for an ALDI supermarket. [map]
Jack Jones Buick [gone]
Bethlehem, PA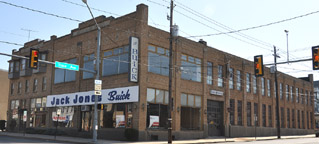 Jack Jones Buick occupied the Miller Motor Company Building from 1921 when this photo was taken in 2009. The building was demolished in 2012.
Matthews Ford [gone]
Paoli, PA
Matthews Ford opened in 1921, selling Fords and farm equipment. This showroom was built in 1923. It is the oldest Ford showroom in Pennsylvania. These photos are from 2012. While the dealership is still there, in 2016, the building was completely remodeled and is now unrecognizable. [map]
A.W. Golden Auto
Reading, PA

2005: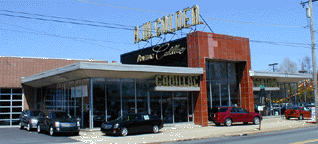 2010: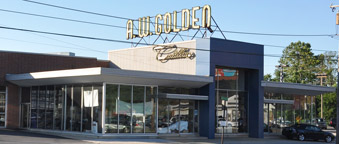 This A.W. Golden Auto dealership was founded in 1919. This building was constructed in 1955. By 2010, several of the signs had been removed. By 2011, the dealership was known as A.W. Golden Saab of Reading. The Cadillac sign was gone. As of 2015, the building still looked the same and the neon rooftop sign remains. The name of the business is now A.W. Golden's FasTrack Used Car Sales & Complete Car Care. By 2016, the rooftop sign was gone. [map]
RoadsideArchitecture.com

Copyright. All photos at this website are copyrighted and may only be used with my consent. This includes posting them at Facebook, Pinterest, blogs, other websites, personal use, etc.

Tips & Updates. If you have suggestions about places that I haven't covered, historical info, or updates about places/things that have been remodeled or removed, I'd love to hear from you: roadarch@outlook.com.