(hit "refresh" to get the most recent version of this page; click on photos for larger images)
Alexander Motor Company
Durham, NC
The former Alexander Motor Company building, aka Alexander Ford, was built in 1924. The company moved to a new location in the late 1970s. The building is now used by the Housing Authority of Durham. The plate glass windows have been replaced with metal panels. For more, see this website. [map]
Johnson Motor Company
Durham, NC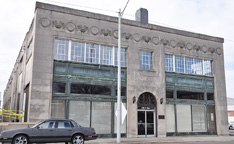 The former Johnson Motor Company was built in 1926 as a Buick dealership. The building is now owned by the County and is used by the Sheriff's Dept. For more, see this website. [map]
former Nash showroom
Durham, NC
This former Nash showroom opened in 1924 as Nicholson Motor Sales. By 1928, it had begun selling Chrysler and Dodge. In the mid-1930s, it was known as Elkins Chrysler Dodge. The building became home to the "Dillon Supply Company" in the 1940s. The building has been painted gray and white. It now houses OerthBio. [map]
former showroom
Durham, NC
Carolina Cadillac
Durham, NC
This former showroom in Durham was built in 1948. It was known as Weeks Motors at that time and was a Lincoln-Mercury dealer. In 1962, the company moved across the street and Hutchins Auto Supply Co. moved in. Hutchins was gone by 2000. When this photo was taken in 2007, the building was still vacant. As of 2017, it was remains vacant. In 2018, the bay building was adapted for Hutchins Garage, a bar and pizza restaurant. The showroom building has been restored but appears to be vacant. For more, see this website. [photo thanks Robby Delius] [map]

This Carolina Cadillac showroom opened around 1924. By 1930, it was known as Rodgers Motors. By 1933, it had become University Motors and sold Plymouth automobiles. In 1983, the building became home to Fishmonger's Seafood Market Crab & Oyster House. This photo is from 2010. The restaurant closed in 2015. By 2018, the brick had been painted white and blue. A new restaurant, Saint James, occupies the building. [map]
Bowen Motor Co. showroom
Sanford, NC
The Bowen Motor Co. showroom once sold Lincoln, Ford and Fordson vehicles. It was later home to Cole Pontiac. The building is now used as a dance or gymnastics studio for children. [map]
Granite Motor Company
Oxford, NC
The Granite Motor Company originally occupied this building which was built in 1923. The dealership sold Packard and Dodge automobiles. By 1942, the building housed Owen Motors Company and was selling Dodge and Plymouth. In the 1940s and 1950s, the building also served as a bus station. Owen Motors closed around 1970. The building now houses Winston International. [map]
Phil Jackson Auto Sales
Charlotte, NC
former showroom [gone]
Winston-Salem, NC
The Phil Jackson Auto Sales used car dealership has been here since around 1978. This building appears to be from the 1940s or 1950s. Does anyone know what was here originally? [map]

This former Winston-Salem showroom was previously occupied by Triad Dodge. The property was later used by the Salvation Army. The building was still there in 2017 but gone by 2018.
Concord Ford
Concord, NC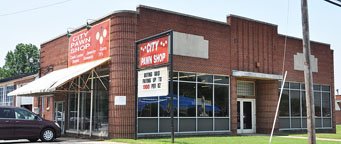 Concord Ford occupied this building originally. It was built in the late 1940s. In the late 1960s, the dealership moved to a new location. The building now houses City Pawn Shop. [map]
Dewitt Motor Company [gone]
Concord, NC

The Dewitt Motor Company dealership was built in the 1950s. Dewitt sold Dodge and Simca cars and trucks. The building last housed 42 Autosports, a repair shop. The building became vacant in 2016. It was demolished in 2020.
Paramount Kia
Asheville, NC
This Paramount Kia showroom has a parabolic roof. The building has always been a car showroom. I believe Dorato Dodge/Toyota was the original occupant and that this building is from 1964. By 2018, the roof had been painted white and the Kia sign was covered up. The building appeared to be vacant. There are similar style car showrooms in Lexington, KY and Vestal, NY. [photos thanks Carey Burda] [map]
RoadsideArchitecture.com

Copyright. All photos at this website are copyrighted and may only be used with my consent. This includes posting them at Facebook, Pinterest, blogs, other websites, personal use, etc.

Tips & Updates. If you have suggestions about places that I haven't covered, historical info, or updates about places/things that have been remodeled or removed, I'd love to hear from you: roadarch@outlook.com.