(hit "refresh" to get the most recent version of this page; click on photos for larger images)
Miller Motors
Ypsilanti, MI
The Miller Motors building was built in 1892 for the Ypsilanti Electronic Co. In 1916, it housed a Dodge Brothers dealership. In 1928, it switched to Willys-Overland. In 1927, the building became a Hudson dealership. In 1955, the name was changed to Miller Motors. Since 1995, the building has housed the Ypsilanti Automotive Heritage Museum. The museum focuses on Hudsons and other local and regional auto manufacturers. There are many cars on display, historical info, and a gift shop. For more, see these websites: 1, 2, 3, 4, and 5. [map]
Verschoor Motor Sales
Grand Rapids, MI

The Verschoor Motor Sales building was constructed around 1937. It was a Hudson dealership at one time. The showroom part of the building is on the left. There appears to be a former small, canopy gas station on the right with service bays behind the two connected structures. The building now houses We Care Medical. [map]
former Cadillac showroom
Detroit, MI
This former Cadillac showroom was built in 1927. The building sat vacant for many years but it is now owned and used by Wayne State University. Although the showroom windows have been bricked up, the Cadillac crests are still visible. [map]
Witt Buick
Muskegon, MI

Witt Buick was established in 1912 as a Hudson dealer. The company moved to this location in 1919. It began selling Buicks in 1939. [map]
former showroom [gone]
Munising, MI

This former showroom and garage last housed a Chevrolet dealership from at least the 1940s until the 1980s. I don't know if that was the make that was sold here originally. This photo is from 2011. The building was still there in 2015 but gone by 2018.
Al Hanson Motors
Bad Axe, MI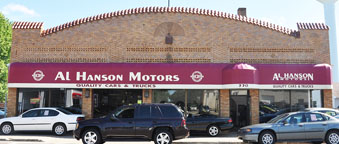 I believe Al Hanson Motors has only occupied this building since 1992. Does anyone know what business was here originally? [map]
Flannery Buick Company
Bad Axe, MI
The Flannery Buick Company building appeared to be from the 1920s or earlier. By 2018, all of the facade's details was gone and a curved top had replaced the stepped top. The business is now known as the Flannery Auto Mall. [map]
RoadsideArchitecture.com

Copyright. All photos at this website are copyrighted and may only be used with my consent. This includes posting them at Facebook, Pinterest, blogs, other websites, personal use, etc.

Tips & Updates. If you have suggestions about places that I haven't covered, historical info, or updates about places/things that have been remodeled or removed, I'd love to hear from you: roadarch@outlook.com.