(hit "refresh" to get the most recent version of this page; click on photos for larger images)
Rogers
Auto Group [gone]
Chicago, IL
former Ford showroom
Du Quoin, IL
The Rogers Auto Group building looks like it has always been a showroom. Does anyone know more about it? This photo is from 2010. In 2015, the facade was either stripped and/or covered with silver panels. [map]

This building housed a Ford showroom in the 1950s. Does anyone know what make of car was sold here originally? It was still a Ford dealership in the 1970s. The building now houses McIntire Electric. These photos are from 2010. The building was being renovated in 2013. The rounded part of the roof feature has been covered with a rectangular box which is decorated with two lightning bolts. The four red balls from the roof are now displayed on the ground. [map]
Terry Bentz Buick
Marseilles, IL
Terry Bentz Buick has a bigger lot a couple of blocks away but still uses this original building as well.
Varna Auto Service
Varna, IL
The Varna Auto Service garage apparently sold Chevrolet and Buick automobiles at one time. The building appeared to be long vacant when these photos were taken in 2012. The signs were removed around 2022. [map]
unidentified building
Staunton, IL
This unidentified building looks like it was probably a combination showroom and garage. Does anyone know anything about it? [map]
Imm & Son Chevrolet Oldsmobile
Toluca, IL

The Imm & Son Chevrolet Oldsmobile dealership was vacant when this photo was taken in 2012. Imm & Son was established in 1915 as a Ford dealership. By 1929, the company was selling Chevrolets. [map]
Leach-Wilson Chevrolet-Buick
Shelbyville, IL
The Leach-Wilson Chevrolet-Buick showroom was built around 1935. Some of the original glass windows on the office has been covered with vinyl siding. Behind the showroom, there is a used car lot with three of these Chevrolet "OK" signs. These photos are from 2010. Between 2013 and 2015, most of the building had been covered with Chevrolet's modern silver and blue panels. The brick facade has been painted silver. The OK signs are still there. [map]
Perillo Lincoln Mercury Saab [gone]
Chicago, IL

The Perillo Lincoln Mercury Saab building originally housed a Pontiac dealer. It was probably built in the 1940s. This photo is from 2006. By 2014, Perillo had moved and this building had been demolished. A Mini Cooper dealership is now on the site.
Car Town [gone]
Chicago, IL
Car Town was a used car lot with great vintage signs. The business and signs are probably from around 1954. In 2020, it was announced that the lot would be developed for condos and retail space. The signs were removed by a private collector. For more, see this website.
McCarthy Ford
Chicago, IL
McCarthy Ford opened this semi-circular showroom around 1961. [map]
Louis Lakis Ford Dodge [gone]
Galesburg, IL
The Louis Lakis Ford Dodge dealership was built in 1973 for Steve Lakis Dodge. These "Dodge Domes" were built elsewhere. In 2014, the dealership was sold to Yemm Ford. In 2015, the dome building was demolished. That leaves the only survivor that I know of in Marietta, GA.
Sunrise Chevrolet [gone]
Midlothian, IL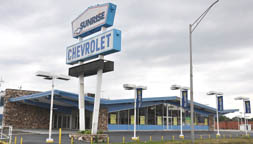 Sunrise Chevrolet's Midlothian showroom appeared to be from the 1960s. The dealership was closed when this photo was taken in 2009. By 2013, the lot was bare.
Z Frank Chevrolet [gone]
Chicago, IL
2006:
2012:
Z Frank Chevrolet was founded in 1936 by Zollie Frank. Initially, the dealership sold Chrysler-Plymouth cars. In 1953, the company switched to General Motors and Chevrolet. This sign was most likely built at that time. It is about 40 feet tall. The dealership moved in 2008 leaving this sign behind. City sign regulations prohibited installing it at the new location. In 2009, the Z Frank dealership became Mike Anderson Chevrolet. In 2011, the Chevrolet letters were removed from this sign. In 2014, the building and sign were demolished. For more, see these websites: 1 and 2.
RoadsideArchitecture.com

Copyright. All photos at this website are copyrighted and may only be used with my consent. This includes posting them at Facebook, Pinterest, blogs, other websites, personal use, etc.

Tips & Updates. If you have suggestions about places that I haven't covered, historical info, or updates about places/things that have been remodeled or removed, I'd love to hear from you: roadarch@outlook.com.