(hit "refresh" to get the most recent version of this page; click on photos for larger images)
Animals were part of my life from the day I was born. There were always cats, dogs, reptiles and tropical fish. Even though I grew up in a "tract" neighborhood in Ventura, CA (suburban ranch homes with small backyards), there were some more exotic animals, too - a monkey, a rooster, rabbits and ducks. After moving away from home and until very recently, I had pet rats which are probably my second favorite animal.
| | |
| --- | --- |
| Snoopy | Poochie & me |
| | |
The first dog in my life was a black Standard Poodle named Snoopy. I really don't have any memories of him and am relying on stories my mother has told me. My parents got him as a puppy when I was a baby. They thought they had gotten a Miniature Poodle, but he just kept on growing and growing. He was overly protective of me and would growl and snap at anyone that came near me. He would also boisterously knock me to the ground (which I didn't seem to mind).

There was a Pomeranian named Kissy followed by a Beagle named Poochie. Poochie had numerous litters of puppies over the years and the garage always had that special puppy smell. One of her pups was white (albino?) and blind. We kept him and called him Piggy. Piggy's father was a giant German Shepherd that guarded the lemon grove behind our house. So although his mother was a normal Beagle size, Piggy was big enough to ride around in the backyard. He was a sweet, trusting, good-natured dog despite his blindness.
In my early teens, a Dachshund/Terrier mix named Herb came along. He was an energetic dog that played fetch with his squeak toys right up til he died in his teens. He also liked to slide down the hill in our backyard. The grassy hill was fairly steep and about 8 feet tall. His invented game was to slide down on his belly then climb up the hill again for another slide. I remember sharing big bowls of ice cream with him. Herb also had the unusual habit of thigh-sucking himself to sleep (see middle photo below) -- a real challenge for a long-backed dog.
Poco & me

While we had Herb, we got another dog - a Chihuahua/Terrier mix named Poco. Both of these dogs were from the "pound" I believe. I'm proud that by this point, my parents were enlightened enough to be adopting rescues (and mixed breeds!) and getting our animals spayed/neutered. Poco was a real lap dog (preferably my mother's) and didn't care much for strangers. Both dogs continued to live long and healthy lives after I went off to college. I didn't have any dogs again in my life for about 10 years. Although I had lots of cats and rats, finding an apartment that allowed dogs was always a difficult thing.
"Mister Mack III" - probably the only AKC-registered dog I'll ever have
After college and a move to New York, I rescued Mack, a Pug, from a pet shop in New Jersey. He was up for sale and I really wasn't looking for a dog but he was so cute and... so sick. The store manager said he was going to be "sent back" (translation: "put down"). I sat in the parking lot for what felt like several hours debating the pros and cons of participating in the puppy mill cycle vs. saving one little life. I finally shamefully gave in and forked over $100 to the manager (the puppy was still on the market for $600 despite being obviously sick).

The vet seemed pretty resigned that the pup wasn't going to make it - a serious case of kennel cough. But after lots of shots, drugs and several hundred bucks, Mack pulled through. He was an adorable puppy - playful and wild. I took him to puppy classes, followed by obedience classes. This was my first exposure to dog training, except for a little trick training with Herb many years earlier. The training place was pretty "old school" but I didn't know any better. Choke collars and corrections, no food allowed - just praise. At the end of classes, they would let us train our dogs to go over a small A-frame. Mackie and I thought it was the best part of class but I had no idea that the sport of agility even existed. In the early 1990s, it was just getting started in this country. Although, even if I had, Mack was certainly not suited for it with his body type and laid-back attitude. Mackie lived til he was 13. He barked at fisherman from an inflatable boat and traveled to California and Louisiana. He dozed in the sun and had a good life of chewies, cushions and car trips.
| | |
| --- | --- |
| Nimbus and Mack | Mack and Lady (cat!) |
| | |
BeeBee and Mack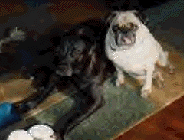 Nimbus, a Whippet, was my girlfriend's dog that I had the pleasure of living with for a few years. He was somewhat aloof and mysterious as I guess sighthounds can be. He loved to chase squirrels but was pretty much a couch potato. He loved lounging in the sun and sleeping under the covers. Most people in the neighborhood were unfamiliar with Whippets and would chastise us with comments like "you should feed that dog!". We always got laughs walking Mack and Nimby together ("Fatty & Skinny").

Later, I adopted BeeBee who Mack loved hanging out with.


Why buy or breed when you can RESCUE?!