(hit "refresh" to get the most recent version of this page; click on photos for larger images)
Nebraska State Education Association
Lincoln, NE
The Nebraska State Education Association building was built in 1964. [map]
Pershing Auditorium [gone]
Lincoln, NE
The Pershing Auditorium was built from 1955-1957. It was later known as Pershing Center. The 140-foot-wide mosaic mural was designed by Leonard Thiessen and Bill Hammond. It was constructed by the Cambridge Tile Company in Ohio. The mural depicts activities that once took place in the building. Pershing Center closed in 2014 and the building is scheduled to be demolished in 2022. The 763,000 square-inch tiles have been removed and put in storage until a new location is found.
Gateway Arch replica
Lincoln, NE
Woodmen Accident & Life
Insurance Building
Lincoln, NE
The Gateway Arch replica is based on the Gateway Arch in St. Louis, MO which was built from 1961-1965. I don't know when the one in Lincoln was built or why it is there. It has stood in front of the Handy Man Home Remodeling Center since at least 1975. [map]

This "Protecting Hand" sculpture was installed on the Woodmen Accident & Life Insurance building when it was built 1953-1955. The sculpture was created by Lawrence Tenney Stevens, The building later housed the Assurity Life Insurance Company. In 2007, the building was purchased by the State. It now houses the First Nebraska Administrative Building. [map]
State of Nebraska Department of Roads
Lincoln, NE

The State of Nebraska Department of Roads building appears to be from the 1950s or 1960s. In 2017, the building was renamed the Nebraska Department of Transportation. [map]
Pioneer Village
Minden, NE
Pioneer Village opened in 1953 and this building which supports the covered wagon was constructed then. The vintage aerial photo in the top row at the left above is from 1960. The building to the left of the covered wagon was built sometime after that. For more, see this website. [map]
law offices
North Platte, NE
The law offices of Waite & McWha were established in 1996 as Waite, McWha & Heng. This building, or at least the screen and canopy, appears to be from the 1950s or 1960s. [map]
Lincoln County Courthouse
North Platte, NE

The Lincoln County Courthouse addition was designed by Hahn, Dunn & Gardner and built in 1968. [map]
Belton-McDonald Building
North Platte, NE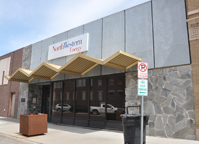 The Belton-McDonald Building was built in 1964. The building has housed NorthWestern Energy since at least 2008. [map]
RoadsideArchitecture.com

Copyright. All photos at this website are copyrighted and may only be used with my consent. This includes posting them at Facebook, Pinterest, blogs, other websites, personal use, etc.

Tips & Updates. If you have suggestions about places that I haven't covered, historical info, or updates about places/things that have been remodeled or removed, I'd love to hear from you: roadarch@outlook.com.