(hit "refresh" to get the most recent version of this page; click on photos for larger images)
Pascagoula Professional Building
Pascagoula, MS
This Pascagoula Professional Building was built in 1971. For more, see this website. [map]
commercial building
Gulfport, MS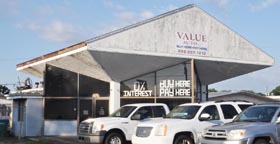 This commercial building was built in 1973. I assume the gabled roof was added later. I don't know what the building housed originally but it has been used as a used car lot office since at least 2007. [map]
Decatur Telephone Company
Decatur, MS
The Decatur Telephone Company building appears to be from the 1950s or 1960s. [map]
former Treasurer Loans
Corinth, MS
The Treasurer Loans building appears to be from the 1960s. The building later housed the Pioneer Credit Co. [map]
Municipal Fire Station #5
Jackson, MS

former Admiral Benbow Inn
Jackson, MS
Sun-n-Sand Motel [gone]
Jackson, MS
The Sun-n-Sand Motel was built in 1960. It closed in 2001 and was boarded up since then. In 2019, the property was sold to the state of Mississippi. In 2020, demolition began. The property will be turned into a parking lot. The sign and canopy will supposedly remain. For more, see these websites: 1 and 2. [map]
Kolb's Cleaners
Jackson, MS

2010:

2019:
This Kolb's Cleaners was designed by Robert Overstreet and built in 1955 This was the company's main location. In 2016, this location closed and the sign letters were removed from the canopy. There are plans to include this building as the lobby for a nine-story hotel known as The Fondren. For more, see this website. [map]
Kolb's Cleaners
Jackson, MS
Veterans Memorial
Jackson, MS
This Kolb's Cleaners is now used as a parking lot office. The building was built around 1970 and housed the "Lamar Package Store" before it became a Kolb's. For more, see this website. [map]

This Veterans Memorial was dedicated in 1976. It is installed in front of the Hinds County Courthouse. [map]
Jackson Municipal Library
Jackson, MS
This Jackson Municipal Library was built around 1954. In 2017, the building was sold to the Mississippi Baptist Convention. [map]
Smith Park Band Shell
Jackson, MS
The Smith Park Band Shell was built in 1973. [map]
Mississippi Valley State University
Itta Bena, MS
College Hall #1
H.M. Ivy Cafeteria
College Hall #1 is a residence hall built from 1963-1964. The building has been vacant since 2004 after it was damaged in a fire. In 2019, when this photo was taken, the building was being renovated. This sawtooth roof entrance will be preserved. For more, see this website. [map]

The H.M. Ivy Cafeteria was designed by Norwood & Kenney and built in 1967. [map]
Ripley High School
Ripley, MS

This Ripley High School building appears to be from the 1960s. I believe this building houses the gym. [map]
RoadsideArchitecture.com

Copyright. All photos at this website are copyrighted and may only be used with my consent. This includes posting them at Facebook, Pinterest, blogs, other websites, personal use, etc.

Tips & Updates. If you have suggestions about places that I haven't covered, historical info, or updates about places/things that have been remodeled or removed, I'd love to hear from you: roadarch@outlook.com.