(hit "refresh" to get the most recent version of this page; click on photos for larger images)
Knightley's Parking Garage
Wichita, KS
The concrete Knightley's Parking Garage was built in 1949 and opened in 1950. The sign was probably built at the same time. The building is listed on the National Register of Historic Places. The rounded ends of the building conceal spiral parking ramps. The garage closed in the 1980s and had remained vacant. In 2021, the building was adapted for parking and apartments known as the Broadway Autopark Apartments. There is a new big building right behind the rounded part of the parking garage making them barely visible now. For more, see this website. [map]
former truck center [gone]
Wichita, KS

This truck center may have been a Mack Truck dealership at one time. The building appeared to be from the 1960s or 1970s. It appeared to be vacant when this photo was taken in 2010. The building was still there in 2015 but had been demolished by 2018.
skywalk
Wichita, KS
This skywalk connects the Innes Parking Garage, Sutton Place Building and the State Office Building. It was built in 1966. For more, see this website. [map]
Wichita Central Library
Wichita, KS

former AMF West Lanes (King Louie Lanes)
Overland Park, KS

| | |
| --- | --- |
| | |
| | |
| --- | --- |
| | |
The former AMF West Lanes was built as the King Louie Lanes. More specifically, it was known as King Louie West. I believe King Louie East on Troost in Kansas City was built earlier. King Louie West was built in two phases. The original, bowling alley building is from 1948. In the mid-1960s, an addition was built for a billiards room, locker room, and an ice skating rink. The folded plate roof, tower, and rocky facade were added at that time. The AMF West Lanes closed in 2009 and the building was still vacant when these photos were taken in 2010. In 2011, it was announced that the Johnson County Museum of History had purchased the building and would be relocating there. Since 2017, the building has housed the Johnson County Arts & Heritage Center. For more, see these websites: 1 and 2. [map]

There's not much left of interest at the King Louie East building which now houses Luzier Cosmetics. However, these mushroom canopies are still at the back of the building. [map]
Kansas Judicial Center
Topeka, KS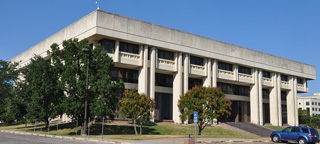 The Kansas Judicial Center was built from 1975-1978. It was designed by Wayne Drummond when he was at the firm of Keene & Bradley. The building is faced with Kansas cottonwood limestone. [map]
RoadsideArchitecture.com

Copyright. All photos at this website are copyrighted and may only be used with my consent. This includes posting them at Facebook, Pinterest, blogs, other websites, personal use, etc.

Tips & Updates. If you have suggestions about places that I haven't covered, historical info, or updates about places/things that have been remodeled or removed, I'd love to hear from you: roadarch@outlook.com.