(hit "refresh" to get the most recent version of this page; click on photos for larger images)
Uncle Nick's
Rockford, IL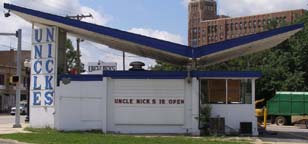 Uncle Nick's is a Greek fast food place that opened in 1980. The building appears to be from the 1960s. It might have been a former convenience store or gas station office. Does anyone know what was here originally? For more, see this website. [map]
unidentified building
Rockford, IL
Berwyn Western Plumbing [gone]
Berwyn, IL
This unidentified building is probably from the 1960s. It stands alone in a cornfield and seems a little fancy and big for a produce stand. There are no other commercial buildings around. Does anyone know anything about it? This photo is from 2009. By 2012, the walls of the building were gone but the roof was still standing. [map]

Berwyn Western Plumbing was established in 1950. This building was built in 1962. This photo is from 2012. The building was demolished around 2015.
Trim 'N Tidy Cleaners
Chicago, IL
shelter
Homewood, IL
Riverside Chocolate Factory
McHenry, IL
This shelter is located in Independence Park. I assume there were benches underneath it originally. [map]

The Riverside Chocolate Factory is probably mid-century. The conical roof appears to be topped with chocolate syrup. The building previously housed the Pine Tree Pet Shop which seems fitting considering the roof's shape. Does anyone know when this place was built and what was here originally? [map]
Ida Crown Natatorium
Chicago, IL

The Ida Crown Natatorium appears to be mid-century and has an enormous concrete roof. [map]
Harrison Pool
Chicago, IL
The Harrison Pool appears to be identical to the Ida Crown Natatorium shown above. A Natatorium was built here in Harrison Park in 1914. In 1987, it was converted into the National Museum of Mexican Art. I assume this pool which appears to be from the 1960s was built to replace the original. [map]
Pride Cleaners
Chicago, IL
Pride Cleaners was built in 1959. It was designed by the Chicago-based architect, Gerald Siegwart. There was an addition in 1966 but other than that the building is intact, including the original aquamarine interior. The building features a concrete hyperbolic parabola roof and the original sign. Chain link fencing has been installed to discourage skateboarders from using the roof. There is at least one other location still in business. For more, see these websites: 1, 2, and 3. [map]
RoadsideArchitecture.com

Copyright. All photos at this website are copyrighted and may only be used with my consent. This includes posting them at Facebook, Pinterest, blogs, other websites, personal use, etc.

Tips & Updates. If you have suggestions about places that I haven't covered, historical info, or updates about places/things that have been remodeled or removed, I'd love to hear from you: roadarch@outlook.com.