(hit "refresh" to get the most recent version of this page; click on photos for larger images)
former Safeway
Dallas, TX

This former Safeway has been vacant since around 2016. Before that, it was housing school district offices. [map]
former Safeway
Dallas, TX

This former Safeway was built in 1967. It has housed a Food-Rite since 2008. Before that, it was a Minyard Food Store. [map]
former Safeway
Salt Lake City, UT
This former Safeway housed a Grand Central supermarket later on. The building now houses the Ken Garff dealership's body shop. The adapted sign looked like this originally. [map]
former Safeway
Anacortes, WA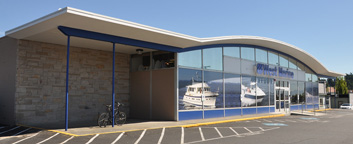 This former Safeway now houses West Marine boating and fishing supplies. [map]
former Safeway
Kent, WA
This former Safeway now houses a Grocery Outlet. It was built in 1963. The original Benson Center/Safeway sign was adapted. In 2018, the sign was replaced with a standard pole sign. [map]
former Safeway [gone]
Bothell, WA

2008:
2015:
This former Safeway was remarkably well-preserved inside and out in 2008. In 2011, the store closed. It was announced that this building would be demolished since a new location had opened nearby. In 2015, the building was still standing and vacant. By 2017, it had been demolished.
former Safeway
Lander, WY

This former Safeway closed around 2010. It has housed an Ace Hardware store since at least 2014. For more, see this website. [map]
Safeway [gone]
Vancouver, BC
This Safeway opened in 1966. Around 2012, the store was demolished and sign removed. Condos and a new Safeway were being built. I don't know of any other locations that still have this style sign. For more, see this website.
More Canada and Elsewhere:
Calgary, AB
Calgary, AB
Medicine Hat, AB
Winnipeg, MB [gone]
Winnipeg, MB: 1, 2 [sign gone; building repurposed] [map]

unknown location [vintage]

This is just a sampling of Marina-style Safeway buildings. If you know of other examples, I'd love to hear about them.

Below are a few other surviving mid-century, non-Marina style Safeway buildings.
Safeway [gone]
Walnut Creek, CA

This Safeway was built in 1965. These photos are from 2014. Around 2016, the building was remodeled for a Whole Foods. For more, see this website.
former Safeway
Los Angeles, CA

This former Safeway was designed by Chapman, McCorkell & Associates and built in 1961. Since 1976, the building has housed the Southern California UFCW (United Food and Commercial Workers) Unions and Drug & General Sales Employers Trust Funds. [map]
Safeway
Reedsport, OR

This shopping center and Safeway were built in 1961. [map]
RoadsideArchitecture.com

Copyright. All photos at this website are copyrighted and may only be used with my consent. This includes posting them at Facebook, Pinterest, blogs, other websites, personal use, etc.

Tips & Updates. If you have suggestions about places that I haven't covered, historical info, or updates about places/things that have been remodeled or removed, I'd love to hear from you: roadarch@outlook.com.