(hit "refresh" to get the most recent version of this page; click on photos for larger images)
former Short Stop Food Store
Fairfield, CA

2008:
2014:

former Short Stop Food Store
Sacramento, CA
former Short Stop Food Store
Davis, CA
former Short Stop Food Store
Vacaville, CA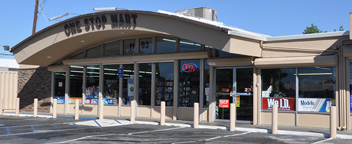 These Short Stop Food Stores were built in the 1960s and 1970s. In the late 1970s, the chain was purchased by Cheaper Food and Liquor which continued building stores with this design. I believe they were only built in Northern California. There were at a couple dozen of these buildings. The locations shown above are just a few examples. For more, see these websites: 1 and 2. [Fairfield map]; [Davis map]; [Sacramento map]; [Vacaville map]
Food Fair
Vacaville, CA
This Food Fair supermarket opened in 1962. There was going to be a companion building on the right which would have created more of an A-frame like appearance. However, that building was never built. For more, see these websites: 1 and 2. [map]
Wegmans
East Rochester, NY

Wegmans supermarket history goes back to 1915. This location was built in 1958 and is the company's oldest remaining store. For more, see this website. [map]
former Lucky supermarket
Berkeley, CA
This former Lucky supermarket still features the company's distinctive pylon. Normally, there were three cut-outs which represented three square meals. However, due to city sign height restrictions, this pylon had to be shorter and only has two cut-outs. I believe it was built in the late 1940s. After Lucky closed, this building housed a Bill's Drug store and a Longs Drugs store after that. It now houses a CVS Pharmacy. [map]

Other than this store, I don't believe there are any of these buildings with pylons left. There was one in Modesto, CA which has been reduced to one cut-out. For more, see these websites: 1, 2, 3, and 4.
former Tom Thumb supermarket
Dallas, TX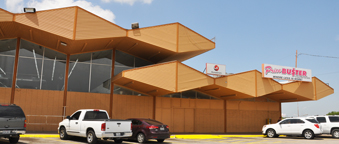 This former Tom Thumb supermarket was built in 1960. It has housed a Hunt's Food Store since about the 1990s. For more, see this website. [map]
Fareway [gone]
Marshalltown, IA

Fareway
Spirit Lake, IA
The Fareway supermarket chain was established in 1938 in Boone, IA. The company now has about 100 stores in Iowa, Nebraska, Illinois, and Minnesota.

This location in Marshalltown appeared to be from the 1960s. By 20222, the building had been demolished and replaced with a modern boxy Fareway. I don't know of any other Fareways that still have canopies like this one.

The signs in Spirit Lake are probably from the 1960s. [map]
RoadsideArchitecture.com

Copyright. All photos at this website are copyrighted and may only be used with my consent. This includes posting them at Facebook, Pinterest, blogs, other websites, personal use, etc.

Tips & Updates. If you have suggestions about places that I haven't covered, historical info, or updates about places/things that have been remodeled or removed, I'd love to hear from you: roadarch@outlook.com.