(hit "refresh" to get the most recent version of this page; click on photos for larger images)
Fast Cash Pawn
Englewood, CO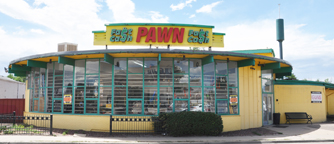 The Fast Cash Pawn building was built in 1960. I don't know what the building houses originally but there was a Magnificent Matador restaurant at that address. I don't if this building was used for that or if the restaurant was demolished for this building. [map]
Beaver Meadows Visitor Center
Estes Park, CO
The Beaver Meadows Visitor Center is also known as the Rocky Mountain National Park Administration Building. The building is located in Rocky Mountain National Park. It was designed by Taliesin Associated Architects and completed in 1967. For more, see this website. [map]
former Fort Morgan Times
Fort Morgan, CO
Showcase Art Center
Greeley, CO
The Fort Morgan Times moved into these two buildings and updated the facades around 1972. The space now houses a martial arts studio. For more, see this website. [map]

The Showcase Art Center building was built in 1959 for Flood & Peterson Insurance and Wheeler Realty. [map]
slipcover
La Junta, CO
Courthouse Offices
Littleton, CO
This mid-century modern slipcover is installed on the Town Square Mall building. This popular building material came in different designs and was used around the country. Some examples can be found in Lisbon, ND and Muskogee, OK. There was another example in Oblong, IL. [map]

The Courthouse Offices was designed by Eugene Sternberg and built in 1960 as the Courthouse Professional Building. [map]
Title Guaranty Building
Littleton, CO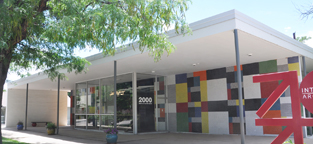 The Title Guaranty Building was designed by Joseph Marlow and built in 1961. The original mosaic tile was produced by Rene Heyvaert. The building now houses Intergroup Architects. [map]
Miller Building
Littleton, CO
The Miller Building was designed by Eugene Sternberg and built in 1974. It originally housed the Martin Miller Law Offices. The building now houses the Littleton Law Center. [map]
Sangre de Cristo Arts & Conference Center
Pueblo, CO

The Sangre de Cristo Arts & Conference Center was built in 1972. It includes a theatre, ballroom, offices, classrooms and galleries. There are two buildings with a connecting terrace. [map]
CSU-Pueblo Library
Pueblo, CO
CSU-Pueblo Belmont Residence Hall
Pueblo, CO
The CSU-Pueblo Library was the first building constructed on this Colorado State University campus. It originally housed the entire campus. This building and the Belmont Residence Hall were built in the 1960s when the school was known as Southern Colorado State College. For more, see this website.
Pueblo County Judicial Building
Pueblo, CO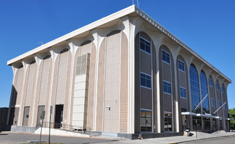 The Pueblo County Judicial Building was built in 1972. [map]
American Legion Post #203
Pueblo, CO

The American Legion Post #203 was built in 1960. [map]
Bud Werner Memorial Library
Steamboat Springs, CO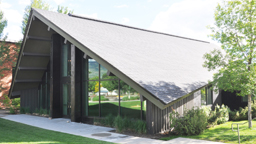 The Bud Werner Memorial Library was designed by Tor Westgaard and built in 1965. It was originally going to be named the Bud Werner Memorial Building and used as a ski patrol headquarters, with space for community meetings. However, as it was being built, it was decided to use it as a library. It opened in 1967. In 1986, a new main library building was constructed next door. It has expanded further since then. [map]
RoadsideArchitecture.com

Copyright. All photos at this website are copyrighted and may only be used with my consent. This includes posting them at Facebook, Pinterest, blogs, other websites, personal use, etc.

Tips & Updates. If you have suggestions about places that I haven't covered, historical info, or updates about places/things that have been remodeled or removed, I'd love to hear from you: roadarch@outlook.com.