(hit "refresh" to get the most recent version of this page; click on photos for larger images)
Royal Motel
Tracy, CA
Royal Motel
Ukiah, CA
The Royal Motel in Tracy appears to be from the 1960s. For more, see these websites: 1 and 2. [map]

This Royal Motel in Ukiah was built with the same design as the one in Tracy. I don't know if there were other locations. [map]
former Royal Inn
Needles, CA

This former Royal Inn is now known as the Desert Mirage Inn & Suites. For more, see this website. [map]
Royal Motor Inn
Yuma, AZ

2012:
The Royal Motor Inn was built in 1967. It was originally part of the Royal Inn Motor Hotel chain. The building on the right was built at the same time as the Sambo's restaurant next door. [map]
former Royal Inn
Palm Springs, CA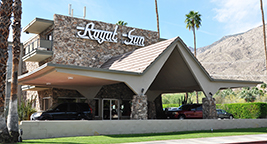 The former Royal Inn is now known as the Royal Sun Inn. For more, see this website. [map]
former Royal Inn Motor Hotel
Alameda, CA

2008: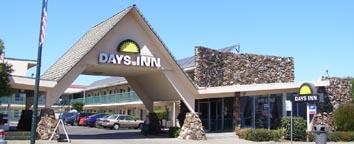 2014:
This former Royal Inn Motor Hotel has been here since at least the early 1970s. The building now houses a Rodeway Inn. This location was built with an attached Sambo's restaurant. For more, see these websites: 1, 2, and 3. [map]
Holiday Inn "corncob" buildings were built in the 1960s and 1970s. Most of these buildings have been remodeled. This vintage postcard from Denver, CO shows what these buildings looked like originally. I don't know how many of these were built but only a handful seem to have survived. If you know of any others not described here, I'd love to hear from you. Cylindrical buildings were built all across the U.S. in the early 1960s. A couple of the most famous are the Capitol Records Tower and Marina City in Chicago, IL.
Holiday Inn
Long Beach, CA
Holiday Inn
Mobile, AL
Holiday Inn
Raleigh, NC
Radisson Hotel
Covington, KY
former
Landmark Hotel
Metairie, LA
The Holiday Inn in Long Beach was built in 1969. [map]
The Holiday Inn in Mobile was built in 1975. [map]
The former Holiday Inn in Raleigh was built in 1969 and renovated in 1996. It was a Clarion Hotel when this photo was taken in 2006. By 2014, it was a Holiday Inn again. [photo thanks Robby Delius] [map]
This Radisson Hotel in Covington was built in 1972. I assume it was originally a Holiday Inn. The top floor restaurant still revolves. [map]
The former Landmark Hotel appears similar to the Holiday Inn design but it was built as the Landmark in 1972. The annex building was added in 1984. It became part of the Best Western chain around 1998. It now houses the Copeland Tower. [map]
RoadsideArchitecture.com

Copyright. All photos at this website are copyrighted and may only be used with my consent. This includes posting them at Facebook, Pinterest, blogs, other websites, personal use, etc.

Tips & Updates. If you have suggestions about places that I haven't covered, historical info, or updates about places/things that have been remodeled or removed, I'd love to hear from you: roadarch@outlook.com.