(hit "refresh" to get the most recent version of this page; click on photos for larger images)
Shipwreck Golf
Panama City Beach, FL

2005 & 2009:
2010: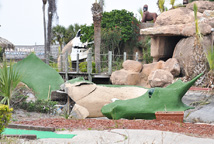 2019:
Shipwreck Golf is just around the corner from the Goofy Golf. This course is or was part of Shipwreck Island Water Park. The sea monster's neck was shortened considerably between 2005 and 2009 (fourth photo in first row). The shark once held the remains of a boat in its mouth. By 2010, the sea monster's neck was broken. I believe the course was only open for a few months in 2009. It had reopened by 2015. [map]
Emerald Falls Fantasy Golf
Panama City Beach, FL

Emerald Falls Fantasy Golf was originally known as Adventure Golf. I believe the giant octopus is the only surviving James Sidwell statue. There was another Adventure Golf in Pigeon Forge, TN. There are still some surviving Sidwell statues at the Rainbow Falls Golf in Myrtle Beach, SC. [map]
Polynesian Putter
St. Petersburg Beach, FL

2009:
The Polynesian Putter was built in 1966. It must have originally been a Goofy Golf course. The Easter Island head and snake are the only remaining Koplin figures. There are a few contemporary additions like the tiger. [map]
Gulf Golf [gone]
Treasure Island, FL
Gulf Golf had some classic holes though I don't know how old they really were. They might have been replacements of original obstacles or just very well maintained. This course had a fiberglass "Pioneer Guy" like the ones shown at this page. Despite having been blown over during a recent hurricane, the statue was in great shape in 2005 when these photos were taken. The statue was saved and moved to Pinellas Park, FL before this place was demolished for condo development. That statue disappeared around 2017. The seated guys, like this one, drove covered wagons at Wagon-Ho! restaurants, a short-lived fast-food chain. For more, see this website.
Putt-Putt Golf
Fernandina Beach, FL
This Putt-Putt Golf opened in 1959. The only other Putt-Putt location in Florida is in Kissimmee in the gated Orange Lake Resort. For more, see this website. [map]
Other Florida Mini Golf Courses:
Fantasia Miniature Golf: 1, 2 (Orlando)
RoadsideArchitecture.com

Copyright. All photos at this website are copyrighted and may only be used with my consent. This includes posting them at Facebook, Pinterest, blogs, other websites, personal use, etc.

Tips & Updates. If you have suggestions about places that I haven't covered, historical info, or updates about places/things that have been remodeled or removed, I'd love to hear from you: roadarch@outlook.com.