(hit "refresh" to get the most recent version of this page; click on photos for larger images)
Shoe House
Hellam, PA
circa 1950
Mahlon Haines
circa 1960
Mahlon Haines, the millionaire "Shoe Wizard", had a shoe store chain with 40 stores and a flair for advertising. He had this house built in 1948. The structure was built from stucco and wood over a wire frame. It is 48 feet long, 17 feet wide, and 25 feet high. There are three bedrooms, two bathrooms, a kitchen, and a living room arranged on five different levels. There is a garage in the instep (now used for the ice cream shop). The heel contains a furnace and pump.

The windows are all stained glass. The window in the front door shows Haines holding up a shoe in each hand with a sign reading "Haines The Shoe Wizard" below. The shoe motif is everywhere: a shoe doghouse, a shoe-shaped sandbox in the yard, and shoe cutouts along the fence surrounding the property.

Haines never lived in the house himself. Instead, he offered the house free to elderly couples who could live for a weekend like "kings and queens" with all expenses paid. In 1950, the House was offered to honeymooners who had a Haines Shoe Store in their town. After Haines' death in 1962, the Shoe was owned by an orthodontist who sold ice cream and souvenirs. The Shoe deteriorated over the years and closed in the 1980s.

In 1987, it was bought at auction by Haines' granddaughter. She and her husband spent four years restoring the Shoe House with plans to turn part of it into a bed and breakfast. As far as I know, this never happened. They sold the house in 1991. New owners turned it back into a tourist attraction and ice cream parlor. It was sold again in 2003 with the stipulation that the Shoe remain open to tourists and the interior be preserved as a museum. In 2007, the Shoe House was restored as part of Hampton Inn's "Save-a-Landmark" program. In 2015, new owners have opened Mellie's Makery, a bakery, in the ground floor of the building. For more, see this website. [map]
Shoe House
Webster, SD
The Shoe House was built in 1996 to house the shoe collection of Mildred Fiksdal O'Neill. O'Neill began collecting shoes in the 1940s. The Shoe House is located at the Museum of Wildlife, Science, and Industry. There are over 10,000 shoes and shoe-related items inside the building. [map]
Shoe House [gone]
Elk Grove, CA
This Shoe House was located at Steele Realty. It had been there since at least 2007. I don't know where it came from originally. There are also several statues there. The business appeared closed in 2016 but the statues and this Shoe House were still there. The Shoe House was gone by 2019.
Big Shoe Repair
Bakersfield, CA
The Big Shoe Repair was built in 1947. It is 30 feet long and 20 feet tall and made of plaster and wood. The shoelace is a 50 feet long piece of rope. The Big Shoe was originally known as Deschwanden's Shoe Repair. It was vacant from 1992 until 2003 when it reopened as the Big Shoe Repair. For more, see this website. [map]
Half Sneaker
New Castle, IN
These Giant Sneakers were created in 1990-1991 and installed on a billboard. They advertised for Reebok during the NCAA Championships. The sneaker shown in the top row is displayed in front of Steve Alford All-American Inn. Steve Alford is a basketball hero in New Castle and the hotel has a basketball theme. This shoe is 14 feet tall and 8 feet wide. In 2005 (first photo), it was gold and white with an Iowa Hawkeyes logo. When these photos were taken in 2009, it was red and white with a New Mexico Lobos logo. In 2013, the shoe was repainted blue and yellow for UCLA. [map]

The half sneaker, shown in the second row, is now located at the Indiana Basketball Hall of Fame Museum. [map]
Adidas Superstar Sneakers
Portland, OR
This pair of Adidas Superstar Sneakers are located at Adidas America Headquarters. The shoes are 15 feet long. They were built in 2008 for the "Left Right Project" in which artists from the East and West Coasts each painted one of the shoes. The shoes were then painted back to their original bland and white colors. For more, see this website. [map]
Giant Sneaker
Quanah, TX
This Giant Sneaker has been located at 287 Antiques since around 2013. [map]
Vans Slip-On and Nike Sneaker
St. Petersburg, FL
The wood-carved Vans Slip-On and Nike Sneaker are located at 1 of 1 Customs. I believe they were carved by Dave Flori. [map]
Sneaker and Pair of Jeans [gone]
Wabash, IN
High-Heel Shoe
St. Louis, MO
This giant Sneaker and Pair of Jeans were installed on the side of the building at Spiece, a clothing store. These photos are from 2009. By 2015, they were gone and the building was housing a car dealership.

This 18 foot tall High-Heel Shoe stood in front of the Brown Shoe Co. These photos are from 2010. The sculpture is entitled "Shoe of Shoes" and was made of 2,000 aluminum shoes. It was created by Victoria Fuller in 1999 and was originally displayed at Chicago's Navy Pier. It was moved to St. Louis in 2000. In 2015, the Brown Shoe building was being remodeled and the name was being changed to Caleres. The giant shoe was moved. For more, see this website. [map]
High Heel Shoe
Yakima, WA
Red Stiletto
Ventura, CA
Silver Arcade
Dillon, SC
The High Heel Shoe in Yakima is located inside the Yakima Valley Museum. It was created for the Head over Heels over Heels exhibit which ran from 2011-2012. This High Heel Shoe is still on display. It is nine feet tall and was modeled after a d'Orsay sling-back pump. It is made of plywood.

The Red Stiletto in Ventura was installed in a farmer's field in 2021. It is about four feet tall. [map]

The Silver Arcade was once the Silver Slipper. The South of the Border tourist attraction which ran the place got in trouble in 1997 for illegal video poker. The name and sign were changed after that but the shoe is still on display. It is about 22 feet long. For more, see this website. [map]
Old Shoe
Sun Valley, CA [gone]
Dutch Shoe
Holland, MI
Dutch Shoe
Oak Harbor, WA
This Old Shoe was located at U Pick Parts. It was originally used for selling ice cream. There were a few of these embellished like this in Reseda, CA but I don't know of any others that survived. The car may be a modified CitroŽn. In 2015, U Pick Parts closed. This shoe car is now at the Valley Relics Museum's storage facility in North Hollywood, CA.

This Dutch Shoe in Holland functions as a children's slide at Nelis' Dutch Village.

This Dutch Shoe in Oak Harbor is installed in front of the Auld Holland Inn. It is about four feet long. [map]
Quality Shoe Repair
Henderson, NV

High Heel Shoe Car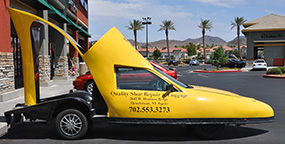 Dress Shoe Car
Quality Shoe Repair displays these two giant Shoe Cars and one giant Boot Car in the store's parking lot. The company was established in Los Angeles in 1973. Its first Boot Car was built in 1979. Four other Cars were built after that. There was an operating Boot Car at the Los Angeles location which is gone now. This Henderson location opened in 2007. I don't know what happened to the fifth Car. The High Heel Shoe Car's license plate reads "High Heel". The Dress Shoe Car's license plate reads "Dreshoe." [map]
More Giant Shoes:
Red Slipper: 1, 2 (was Denver, CO; now Castle Rock, CO)
Shoe House (St. Charles, ID)
Delilah Shoe (Belleville, IL)
Sid's Shoe Shop (Goldsboro, NC) [vintage, gone]
Shoe House (Lincolnton, NC) [map]
Chris Shoe Repair: 1, 2 (Springfield, OH) [gone]
Silver Slipper (Missoula, MT)
Big Shoe: 1, 2 (Memphis, TN) [vintage; gone]
Shoes & Boot (Nashville, TN)
Red Shoe (Lynchburg, VA)
Dutch Shoe Car (Lynden, WA)
Giant Shoe (Brookfield, WI)

Shoe Car (Wenzhou, China)
Priscilla, Queen of the Desert: 1, 2 (London, England) [gone]
Giant Soccer Shoes (Berlin, Germany)
Giant Shoehouse (Bombay, India)
Giant Shoe (South Africa)
Giant Sandals (Asmara, Eritrea)
patented Shoe House
RoadsideArchitecture.com

Copyright. All photos at this website are copyrighted and may only be used with my consent. This includes posting them at Facebook, Pinterest, blogs, other websites, personal use, etc.

Tips & Updates. If you have suggestions about places that I haven't covered, historical info, or updates about places/things that have been remodeled or removed, I'd love to hear from you: roadarch@outlook.com.