(hit "refresh" to get the most recent version of this page; click on photos for larger images)
Mammy's Cupboard
Natchez, MS

2010:
Mammy's Cupboard was built as a restaurant in 1940. The 28-foot-tall black woman has a 20 foot wide skirt. The skirt was originally painted yellow and Mammy's skin tone was coal black. The restaurant was built as a tourist attraction addition to Henry Gaude's Shell gas station. There were originally pumps in front of the building. Gaude drew the sketch and built the structure out of wood and tin. The bricks and wood came from a torn down cotton gin. Mammy's eyes were illuminated with light bulbs and horseshoes were originally used as earrings.

In 1943, the restaurant closed and was used for storing hay. In 1947, it reopened as a drive-in with carhops. The gas pumps disappeared sometime after the late 1970s, although they had ceased operating long before that. In the 1990s, Mammy's paint was peeling badly and her arms had fallen off. She was restored after that. However, by 2019, the was missing her right arm and tray again. The restaurant is still open for lunch. For more, see these websites: 1, 2, 3, 4, and 5. [map]
Statue of Liberty
El Monte, CA
Statue of Liberty
Las Vegas, NV
Statue of Liberty
Milwaukie, OR
The fiberglass Statue of Liberty replica in El Monte is 23 feet tall. It was installed in 1987. The statue was donated to the city by a Taiwanese immigrant. For more, see this website. [map]

This Statue of Liberty in Las Vegas was installed in the Liberty Square strip mall in 1981. The base housed the Statue of Liberty Pizza restaurant. Coincidentally, there is now a Liberty Tax office in one of the strip mall's storefronts. For more, see this website. [map]

There is also a larger Statue of Liberty in Las Vegas. It is located at the New York, New York Casino. The statue was built in 1997 and is half the height of the real statue in New York City.

This Statue of Liberty in Milwaukie is located next to Mikanikmyk Auto Services. It was installed in 2006. The statue is about 30 feet tall and stands on a 20-foot-tall base. [map]
Statue of Liberty
Purcell, OK
Statue of Liberty
Seattle, WA
Statue of Liberty
Memphis, TN
This Statue of Liberty in Purcell has been located in front of Jack Tracy Law since at least 2008. [map]

This Statue of Liberty in Seattle was created in 1952. It is about six feet tall, excluding the base. The statue was built during a Boy Scout campaign where about 200 Statues of Liberty were installed around the country. For more, see this website. [map]

This Statue of Liberty in Memphis is 72 feet tall. It was sculpted by Ryan Bessant and installed in 2006 in front of the World Overcomers Outreach Ministries Church. The statue holds a cross instead of a torch. She holds a tablet shaped like that used for the Ten Commandments. It is referred to as "The Lord's Lady Liberty" and "Lady Liberation." For more, see this website. [map]
Statue of Liberty
McRae-Helena, GA
This Statue of Liberty was built in 1986 by the Lions Club. The head was carved from a stump and the rest of the body from found materials. It is spotlit at night. [map]
Statue of Liberty
Blue Ridge, GA
This Statue of Liberty is installed in front of the former Fannin County Courthouse, now The Art Center. The statue was moved here from the City Park in 2004. I don't know when it was originally built or who created it. The street light torch might not be original. [map]
More Statue of Liberty Statues:
Birmingham, AL
Kremmerling, CO
Clermont, FL
Hays, KS
Kingman, KS
Liberal, KS
Butler, MO
Lamar, MO
Missoula, MT [map]
New York, NY
Philadelphia, NY
Minster, OH
Newton Falls, OH
Blackwell, OK
Muskogee, OK
Muskogee, OK
Tahlequah, OK
Harrisburg, PA [map]
Rapid City, SD [gone]
Wheatland, WY
Mermaid [gone]
Little River, SC
This Mermaid statue was part of the sign at the Curious Mermaid, a home and garden gift shop. The mirror and comb are mermaid symbols, representing female vanity. These photos are from 2007. The store closed in 2008 and the statue is gone.
Mermaid & Catfish
Salado, TX
Mermaid [gone]
Mounds View, MN
This bronze Mermaid & Catfish sculpture was created by Troy Kelley in 1985. It was installed near a stream in Pace Memorial Park around 2009. It depicts the myth of "Sirena", an Indian Maiden, and a magical Catfish. For more, see this website. [map]

This fiberglass Mermaid in Mounds View was 30 feet tall. The statue was built by the Rubelson Sign Company. It was installed on the roof of the Mermaid Entertainment and Event Center. The statue was built in 1967 for the Mermaid Supper Club, the original name of the place. The statue was removed in 2018 and put in storage. The owners might have her reinstalled on the property if the City approves. For more, see these websites: 1 and 2.
Mermaid Gift Shop
Kissimmee, FL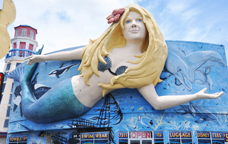 The Mermaid Gift Shop was built in 2000. It was built by the same company which built the giant wizard gift shops in Kissimmee and Orlando. [map]
These statues of Mermaids were installed at Weeki Wachee Springs State Park in 1947. The sculpture shown in the third and fourth photos above is installed on top of the Adagio Fountain. The figures are executing the "Adagio pose" which was performed by the live mermaids during shows. For more, see these websites: 1 and 2. [map]
Pioneer Woman
St. Paul, MN
Venus de Milo
Lakewood, CA
Lady Desert
Rhyolite, NV
The Pioneer Woman stands at the Minnesota State Fair as a tribute to Minnesota women. It was created by Gordon Shumaker and installed here in 1959. For more, see this website. [map]

This Venus de Milo sculpture was carved in 1989 by Norman McComb from a tree stump in his front yard. The statue is about seven feet tall. The house is now owned by different people but the sculpture remains. [map]

Lady Desert, officially entitled "Lady Desert: The Venus of Nevada", is a 25-foot-tall sculpture made of cinder blocks. It was created in 1992 by Dr. Hugo Heyrman. This nude woman was done in a pixelated style. For more, see this website. [map]
Bliss Dance
San Francisco, CA (now Las Vegas, NV)

2014:
2017:
This Bliss Dance sculpture was built by Marco Cochrane in 2010 for the Burning Man Festival. The dancing woman was 40 feet tall and made of stainless-steel mesh. At night, the sculpture was lit with slowly changing colored LED lights. It was installed at Treasure Island in San Francisco in 2011 and removed in 2015. In 2016, the sculpture was installed in Las Vegas. For more, see this website. [map]
circle of womenGainesville, FL
This circle of women is installed behind the Florida School of Massage. These smaller than life-sized, concrete statues appear to have been created by the same artist that made the giant hands which hold the business' sign.
RoadsideArchitecture.com

Copyright. All photos at this website are copyrighted and may only be used with my consent. This includes posting them at Facebook, Pinterest, blogs, other websites, personal use, etc.

Tips & Updates. If you have suggestions about places that I haven't covered, historical info, or updates about places/things that have been remodeled or removed, I'd love to hear from you: roadarch@outlook.com.