(hit "refresh" to get the most recent version of this page; click on photos for larger images)
former station
Oklahoma City, OK
This former station had been vacant for many years. It is believed to have been built as a Wirt Franklin station in the 1920s or 1930s. The building was restored around 2001. It housed Travel Inc. when these photos were taken in 2011. By 2014, the building was housing Scott Cleaners. [map]
former Skelly station
Fairfax, OK
This former Skelly station appeared to be vacant when these photos were taken in 2011. It now houses Treats, serving coffee and sweets. [map]
former Skelly station
Tulsa, OK

2011:
This former Skelly station was built around 1930. It appeared to be vacant in 2011. The building now has housed Bauhaus Interiors since around 2017. For more examples of similar Skelly designs, see this page. [map]
former Cities Service station
Frederick, OK
This former Cities Service station was built in the late 1920s. It appeared to be vacant when these photos were taken in 2011. The building would have originally looked like this one in Boone, IA [scan thanks Mike Kertok]. [map]
Avant's Cities Service Station
El Reno, OK

2011:
2012:
2021:
Avant's Cities Service Station was built in 1933. The building now houses WBC Rentals. The building was repainted by 2014. For more, see this website. [map]
Threatt Filling Station
Luther, OK
The Threatt Filling Station was built in 1915 and catered to African American travelers. The building is faced with "giraffe stone", a popular style using local sandstone. The building appears to be vacant. It is listed on the National Register of Historic Places. For more, see this website. [map]
former station
Sapulpa, OK
2012:
2019:
This former station in Sapulpa appears to be a Humble Oil station with the roof removed. The building was painted blue and white by 2016. It housed a body shop then. The building appeared to be vacant in 2019. [map]
Mustang Quick Lube
Mustang, OK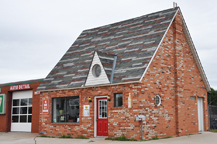 The Mustang Quick Lube building appears to be modern, built in the style of an old station. There are replica or vintage Sinclair pumps in front and some Sinclair signs but I don't know if this was ever a Sinclair station. For more, see this website. [map]
Kemnitz Oil Co.
Perry, OK

2011: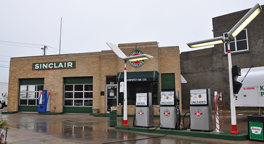 The Kemnitz Oil Co. building was constructed in 1937 as a D-X station. It later housed an APCO station. Since 1994, it has been a full service Sinclair station. It has been recognized as the longest, continuously operating gas station in Oklahoma. By 2019, the dinosaur statue on the roof and the smaller one on the dollar had been installed. [map]
RoadsideArchitecture.com

Copyright. All photos at this website are copyrighted and may only be used with my consent. This includes posting them at Facebook, Pinterest, blogs, other websites, personal use, etc.

Tips & Updates. If you have suggestions about places that I haven't covered, historical info, or updates about places/things that have been remodeled or removed, I'd love to hear from you: roadarch@outlook.com.