(hit "refresh" to get the most recent version of this page; click on photos for larger images)
former Marathon station
Commerce, OK
This former Marathon station now houses the Dairy King. There are conflicting reports as to when this was built: 1925, 1927 or 1931. For more, see this website. [map]
former station [gone]
Oklahoma City, OK
This former station housed the Boots & Saddles bar. It appeared to be closed when these photos were taken in 2011. In 2014, the building was scheduled for demolition. It was gone by 2015.
former station
Oklahoma City, OK
2011:
2021:
This former station in Oklahoma City was built in the early 1930s. By 1932, it was incorporated into the Owl Courts complex which included rooms and a cafe. The rock exterior was added at that point. By 1940, the station was being used an office for motor court. In the 1970s, the rooms were converted into apartments. In 2020, the gas station building began housing a Brew Brother coffee shop. [map]
former station
Ralston, OK
former Conoco station
Altus, OK
This former station in Ralston was apparently vacant when this photo was taken in 2011. [map]

This former Conoco station in Altus has been dressed up as a Phillips 66 station. It may have been one at some point. [map]
former Conoco station
Altus, OK
This former Conoco station has the distinctive but rare rustic treatment around the door. By 2018, the roof had deteriorated even further. About half of it was missing. A larger example of this Conoco cottage station is in Norton, KS. [map]
former Conoco station [gone]
Oklahoma City, OK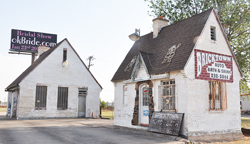 This former Conoco station had the distinctive doorway and chimney in the middle of the roof. It also featured a separate bay building. The station housed Bricktown Auto Bath for many years. In 2014, Bricktown moved and construction of an apartment building on the lot began. It was promised that the buildings would be preserved or their facades would be saved and integrated into the new development. However, the buildings were demolished in 2014.
former Conoco station
Commerce, OK
This former Conoco station was built in the late 1920s. It became a Phillips 66 in the late 1930s. The building was restored in 2008. It was repainted again in 2021. [map]
RoadsideArchitecture.com

Copyright. All photos at this website are copyrighted and may only be used with my consent. This includes posting them at Facebook, Pinterest, blogs, other websites, personal use, etc.

Tips & Updates. If you have suggestions about places that I haven't covered, historical info, or updates about places/things that have been remodeled or removed, I'd love to hear from you: roadarch@outlook.com.