(hit "refresh" to get the most recent version of this page; click on photos for larger images)
former station
Deming, NM
This former station was a Conoco at one time. It might have sold that brand originally. The building appears to be from the 1930s. It recently housed Two Bits Tattoo. Before that, it housed the Joe Perk Coffee Shop. The building was vacant in 2018. [map]
Standard Diner
Albuquerque, NM

The Standard Diner was built around 1938. The building originally housed Carothers and Mauldin Automobile Service which was a Texaco station and a General Tire dealer. After renovation, the Standard Diner opened here in 2006. The building now houses the Range Cafe. For more, see these websites: 1, 2, and 3. [map]
Kellys Brew Pub
Albuquerque, NM
Kellys Brew Pub occupies the Jones Motor Company building. It was designed by Tom Danahy and built in 1939 as a Ford dealership, repair shop, and gas station. It was apparently a Texaco station originally or very soon after the dealership opened. The Jones Motor Company moved to a new location in 1957. After that, numerous tenants occupied the building including a moped shop, a thrift store, a body shop, and an army surplus store. Kellys bought the building in 1999 and renovated it with the former gas station in mind. The service bay doors were preserved and vintage pumps were added. The "Food" sign on the building's tower simulates the "Ford" logo that was there originally. In 2021, the building began housing M'tucci's, an Italian restaurant. [map]
former station
Albuquerque, NM

2008: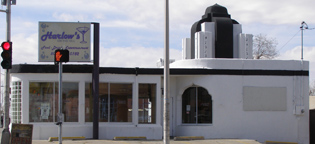 2012:
2017:
This former station was built in 1946 as F.V. McCormick's Standard station. There were three stations built with this design. This is the only one left. It was a Chevron station at some point. It had housed Harlow's on the Hill, a music venue, but was vacant when the photos above were taken in 2008. Since 2011, the building has housed Fan Tang, an Asian restaurant. For more, see this website. [map]
former station
Albuquerque, NM
This former station was built around 1949 as Stagg's Chevron Station. The building housed Auto Services Ltd. Transmissions for many years. The building is either vacant or used for storage now. [map]
former station
Carlsbad, NM

2012:

2017:
This former station housed the Big Boyz tire store in 2012. In 2017, it was housing the Workz Auto Salon. I'm told that the tower in the middle was used for the office of the station and that there was a dealership in the laundry building on the right. The service bays on the left are still in use. By 2019, there was a tire shop and another laundromat in the building. The building had been repainted again. [map]
RoadsideArchitecture.com

Copyright. All photos at this website are copyrighted and may only be used with my consent. This includes posting them at Facebook, Pinterest, blogs, other websites, personal use, etc.

Tips & Updates. If you have suggestions about places that I haven't covered, historical info, or updates about places/things that have been remodeled or removed, I'd love to hear from you: roadarch@outlook.com.