(hit "refresh" to get the most recent version of this page; click on photos for larger images)
Sav-O-Mat station
Las Vegas, NM
Sav-O-Mat station
Raton, NM
Sav-O-Mat station
Las Cruces, NM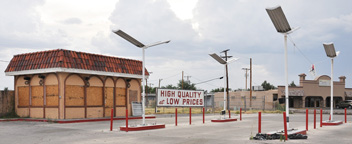 This Sav-O-Mat station design in the first two stations above was used in New Mexico and Colorado. I don't know how many were built or when. The Las Cruces location was built in 1970 and was still operating in 2015. By these 2017 photos, it had closed and the pumps were gone. By 2021, the building was gone but the sign remains. The Raton location looked closed in 2019. [Las Vegas map]; [Raton map]; [Las Cruces map]
former Conoco station
Roswell, NM
This former Conoco station was built around 1920. It features drive-through bays that extend from the front to the back of the building. The building is listed on the New Mexico State Register. By 2019, the building was housing the Roswell Visitors Center. [map]
former Conoco station
Albuquerque, NM
This former Conoco station was built in 1937. The station closed in the 1980s. This Conoco design with side-by-side bays is very rare. There are only a few others including these in Ida Grove, IA and Shelby, MT. The building now houses TACA, the Albuquerque Conservation Association. [map]
former Phillips 66 station
Roswell, NM
This former Phillips 66 station was probably built around 1930. It was vacant when these photos were taken in 2012. The building was still vacant in 2018. [map]
former Phillips 66 station
Las Vegas, NM
This former Phillips 66 station housed Expert Auto Detailers when these photos were taken in 2012. By 2018, the building was housing another auto repair shop. The building had been painted a greenish gray and had a new metal roof. [map]
former Phillips 66 station
Raton, NM
This former Phillips 66 station has housed a used appliances business since at least 2009. By 2019, the roof was painted grey. [map]
former Phillips 66 station
Artesia, NM
This former Phillips 66 station now houses the Piccolino Restaurant. [map]
former Phillips 66 station [gone]
Clovis, NM

2012:
2017:
This former Phillips 66 station now houses a real estate office and mortgage broker. This vintage photo that is displayed inside shows what this station looked like originally. By 2022, the buildings were gone.
former Phillips 66 station
Glenrio, NM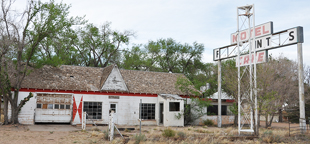 This long-abandoned, former Phillips 66 station was part of the First-Last Motel & Cafe complex. The sides of the sign read "First Inn in Texas" and "Last Inn in Texas". [map]
Shell station
Ruidoso, NM
This Shell station was designed in a chalet style. Ruidoso is a popular destination for snow skiers. Does anyone know when this station was built? [map]
RoadsideArchitecture.com

Copyright. All photos at this website are copyrighted and may only be used with my consent. This includes posting them at Facebook, Pinterest, blogs, other websites, personal use, etc.

Tips & Updates. If you have suggestions about places that I haven't covered, historical info, or updates about places/things that have been remodeled or removed, I'd love to hear from you: roadarch@outlook.com.