(hit "refresh" to get the most recent version of this page; click on photos for larger images)
former Pure Oil station [gone]
Norlina, NC
former Pure Oil station
Smithfield, NC
I don't believe this former Pure Oil station still exists. This photo is from 1937. [scan thanks Robby Delius]

This former Pure Oil station in Smithfield now houses the Little Brown Jug. The exterior was bricked over in the late 1960s or early 1970s. [map]
former Pure Oil [gone]
Winston-Salem, NC
This former Pure Oil station was home to Alderman Automotive when these photos were taken in 2006. The Pure Oil sign was nearly readable under the old sign. The station was demolished around 2007. [vintage photo thanks Wayne Henderson; 2006 photos thanks Robby Delius]
former Pure Oil station
Washington, NC
In 2007, this former Pure Oil station was threatened with demolition. However, it was still standing in 2019 and vacant. [map]
former Pure Oil station
Washington, NC
This former Pure Oil station now houses the Fifth Street Service Center. [map]
former Pure Oil station
Greenville, NC
This former Pure Oil station now houses A&B Auto Service, a repair garage. [top right photo thanks Robby Delius] [map]
former Pure Oil station
Lumberton, NC
The former Pure Oil station is now home to Lee's Service Center. This unusually long sequence of buildings seems to be part of the original Pure Oil station construction. These photos are from 2009. By 2015, the buildings had been painted grey. [map]
former Pure Oil station
Kinston, NC
This former Pure Oil station now houses Brown's Service Center. By 2016, the building had been painted the NAPA AutoCare Center colors of blue and gold with white. This canopy must have been an addition or a replacement. [map]
former Pure Oil station
Kinston, NC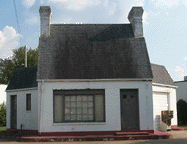 This former Pure Oil station has been repainted since this photo from 2007. It appeared to be either vacant or in used as office space. I don't know when Pure Oil built these wider-topped chimneys but there are many of them around. [photo thanks Robby Delius] [map]
former Pure Oil station
Charlotte, NC
This former Pure Oil station on Central Avenue was built in 1935. The building has housed the Fuel Pizza Cafe since 1997. Around 2017, the building was painted dark gray. This was the company's first location. There are now six other locations in the Charlotte area. [map]
former Pure Oil station
Davidson, NC
This former Pure Oil station also housed a Fuel Pizza Cafe. This location opened in 2000. By 2021, it was housing the Crazy Pig BBQ. The original window and door details were gone. [map]

There was another Pure Oil station in Charlotte which was located on Monroe Rd. It was built in 1937 and has been demolished.
former Pure Oil station
Kernersville, NC
This former Pure Oil station housed Kernersville Transmission when these photos were taken in 2004. By 2014, the building was housing Triad Import Specialists, an auto repair shop. [map]
former Pure Oil station
Wilmington, NC

2005:
2007:
This former Pure Oil station was built in 1930 and, over the years, has been a flower shop, furniture store, and consignment store. In 2005, the former station housed the Rebel Books bookstore. In 2007, the building housed Artfuel, a gallery and tattoo studio. From 2012 until 2015, the building housed the Uprising Bakery. The building was vacant in 2016. By 2019, it was housing RockStar Tattoo. [map]
RoadsideArchitecture.com

Copyright. All photos at this website are copyrighted and may only be used with my consent. This includes posting them at Facebook, Pinterest, blogs, other websites, personal use, etc.

Tips & Updates. If you have suggestions about places that I haven't covered, historical info, or updates about places/things that have been remodeled or removed, I'd love to hear from you: roadarch@outlook.com.