(hit "refresh" to get the most recent version of this page; click on photos for larger images)
former Esso station [gone]
Raleigh, NC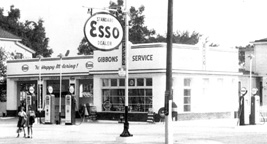 2004:
2010:
This building originally housed Gibbon's Esso station. It was vacant in 2004 when the second row of photos were taken. In 2008, the porcelain enamel panels were removed to reveal the old Esso signs. By 2010, the restoration was complete. The building appeared to still be vacant in 2014. Since 2016, the building has housed the Dram & Draught bar. By 2021, the building had been demolished. [vintage photo thanks Wayne Henderson]
former Esso station
Hertford, NC
This former Esso station was being restored in 2010 when this photo was taken. The building was still vacant in 2016. [map]
former Texaco station
Durham, NC
former station
Hickory, NC
This former Texaco station was built in the 1940s. By the 1960s, it had become a Sinclair Station. In 2008, the steel panels were removed from the building exposing the brick. The interior was renovated and the building housed Gyrotonic Durham, an exercise studio, when these photos were taken in 2010. By 2013, the building was housing the Cocoa Cinnamon cafe. [map]

This former station in Hickory might be a former Texaco. This photo is from 2010. By 2012, the building was used by Greenway Public Transportation. By 2018, it was housing a tire shop. [map]
former station
Durham, NC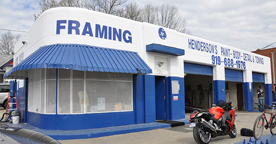 The former station housed Henderson's Auto Paint & Body when this photo was taken in 2010. This might be an Amoco station with the tower removed. Does anyone know for certain what brand this station sold originally? [map]
former Gulf station
Smithfield, NC

This former Gulf station housed a car wash when this photo was taken in 2009. The building was housing Frank's Automotive by 2014. By 2017, it was housing Market Street Automotive. [map]
former Gulf station
Mount Airy, NC
This former Gulf station probably had a canopy originally like the one above in Smithfield. At some point, it must have become a Texaco. The building now houses First Chance Motorsports. [map]
former Hayes Gulf Service
Forest City, NC
Hayes Gulf Service closed sometime in the 1980s and sold the station to Western Auto next door. It was still in use as a repair garage in 2004. When these photos were taken in 2010, the building was vacant. In 2013, the building housed Barry's Auto Sales. The building is vacant again. I have not seen a double canopy Gulf before and don't know how common they were. [map]
former Phillips 66 station
Sanford, NC
This former Phillips 66 station is a well-preserved example of the company's Pier (aka "batwing") style stations. This one now houses the Foreign Exchange, a car repair shop. For more, see these websites: 1 and 2. [map]
former Phillips 66 station
Durham, NC

In 1994, this double-canopied, former Phillips 66 station was converted into the Mad Hatter's Cafe and Bake Shop. These photos are from 2007. The building is now painted a dark grey. The original station would have looked like this one in Webster Groves, MO. [photos thanks Robby Delius] [map]
former station
Farmville, NC
While this former station looks similar to Phillips 66, it never was one. It was an Amoco at one time. It has been Speight's Service Center since at least 1963. [map]
RoadsideArchitecture.com

Copyright. All photos at this website are copyrighted and may only be used with my consent. This includes posting them at Facebook, Pinterest, blogs, other websites, personal use, etc.

Tips & Updates. If you have suggestions about places that I haven't covered, historical info, or updates about places/things that have been remodeled or removed, I'd love to hear from you: roadarch@outlook.com.