(hit "refresh" to get the most recent version of this page; click on photos for larger images)
Larry's Service
Lawrence, MA
2004:
2009:
Larry's Service was still operating as a Gulf station in 2004. I don't know what brand was sold here originally. By 2009, the pumps had been removed and the older bay doors had been replaced. by 2018, the building had been painted blue and red. It now houses A&V Auto & Bike Detailing. [map]
Gulf station
Holliston, MA
This Gulf station has some nice old details including a Colonial style cupola on the roof and funky lights over the pump island. It was still pumping gas when these photos were taken in 2009. By 2013, the Gulf sign was gone. Although the pumps were still there, the station was no longer selling gas. The cupola was gone by 2019. [map]
former Phillips 66 station
Westfield, MA
This former Phillips 66 station was vacant when these photos were taken in 2011. By 2015, the building was housing a hazardous waste disposal business. [map]
former Phillips 66 station
Wrentham, MA
This former Phillips 66 station now houses Commonwealth BBQ. I believe the restaurant opened in 2011. In 2009, the building housed the Wampum Corner Drive-Thru, an ice cream stand. For more, see this website. [map]
former Gibbs station [gone]
Milford, MA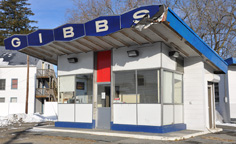 This former Gibbs station was part of a regional chain. The Gibbs Oil Company had around 20 locations in Maine, New Hampshire, Connecticut, and Massachusetts. I don't know if any of the other stations have offices like this one which appears to be from the 1960s. This station was closed when this photo was taken in 2009. Around 2012, the building was demolished.
RoadsideArchitecture.com

Copyright. All photos at this website are copyrighted and may only be used with my consent. This includes posting them at Facebook, Pinterest, blogs, other websites, personal use, etc.

Tips & Updates. If you have suggestions about places that I haven't covered, historical info, or updates about places/things that have been remodeled or removed, I'd love to hear from you: roadarch@outlook.com.