(hit "refresh" to get the most recent version of this page; click on photos for larger images)
former station
Stanwood, IA
former station
Oxford Junction, IA
The former station in Stanwood had been abandoned for many years. It was probably built in the 1920s. This photo is from 2009. By 2013, the building had a new roof and had been restored. [map]

This former station in Oxford Junction appears to be used as a residence now. [map]
Behrens-Rapp Service Station
Cedar Falls, IA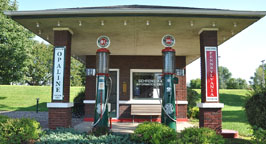 The Behrens-Rapp Service Station was built in 1925 and operated until 1990. In 1993, it was moved to where it is now where it houses the Behrens-Rapp Service Station Museum and Tourist Center. [map]
State Street Station
Centerville, IA
This State Street Station was restored for Centerville's Historic Preservation Commission which owns the building. It is used for fundraising activities. The Sinclair pumps are probably replicas and are just for show. I don't know if this was ever a Sinclair station. Does anyone know more about this building?
former station
Grand Junction, IA
former station [gone]
Titonka, IA
This former station in Grand Junction is dressed up with a Mobilgas pump and signs. However, this was never a Mobil station. This Mobil sign came from Wisconsin and was installed in recent years. In the 1950s and 1960s, the building housed a D-X station. I don't know what brand of gas was sold here originally. [map]

This former station in Titonka was built in the late 1920s. This photo is from 2009. The building was demolished by 2021.
former station
Woodbine, IA
Brickstreet Station
Woodbine, IA
The former station shown on the left above now houses the Woodbine Redemption Center. [map]

The Brickstreet Station is one of four canopy gas stations in Woodbine which are located on the Lincoln Highway. Two of these stations are still in operation. This station now functions as a gift shop and information center. [map]
Bedford Oil Co. station
Bedford, IA
The Bedford Oil Co. station was built in 1928. It is also known as the Conoco Station Building. The building is listed on the National Register of Historic Places. It now houses the Bedford Area Development Center. The bay building was probably built much later. [map]
former Texaco station
La Porte City, IA
This former Texaco station was built in 1930. The bay building was added sometime after 1949. These photos are from 2009. By 2012, the Texaco sign had been removed. [map]
RoadsideArchitecture.com

Copyright. All photos at this website are copyrighted and may only be used with my consent. This includes posting them at Facebook, Pinterest, blogs, other websites, personal use, etc.

Tips & Updates. If you have suggestions about places that I haven't covered, historical info, or updates about places/things that have been remodeled or removed, I'd love to hear from you: roadarch@outlook.com.