(hit "refresh" to get the most recent version of this page; click on photos for larger images)
former Pure Oil station
Lavonia, GA
former Pure Oil station
Macon, GA
This former Pure Oil station in Lavonia was built in 1935 and closed in the 1970s. It is listed on the National Register of Historic Places. The building now houses Novus Glass. [map]

This former Pure Oil station in Macon is nearly completely concealed behind additions. [map]
former Pure Oil station
Macon, GA
This former Pure Oil station was built in 1935. The building has been vacant since around 2014. [map]
former station?
Marietta, GA
This building may be a former station or it may have always been a residence. The design might suggest that it was influenced by the Pure Oil design. In 2007, the building appeared to be in use as a residence. By 2012, it was housing Mountain Biscuits. In 2016, the building was expanded to the left and another gabled building was added behind it. In 2018, Basecamp at Kennesaw Mountain moved into the building. [map]
former Pure Oil station
Pine Mountain, GA

2005:
This former Pure Oil station was originally known as Metcalf's Pure Oil. The building housed the Purple Cow Ice Cream & Coffee Shop in 2005. Before that, it housed Now and Then Antiques. By 2013, the building was housing the Hissy Fits gift shop. It appeared to be vacant in 2019. In 2021, the building was being renovated and the canopy was opened up again. [map]
former Pure Oil station
Rome, GA
This former Pure Oil station has been vacant since at least 2007. [map]
former Pure Oil station
Rome, GA

2008:
This former Pure Oil station began housing the J. L. Todd Auction Co. in 1966. Around 2010, the company moved to a new location and brought along the sign on the left. A replica sign was installed in front of the Pure Oil station. The globe sign was saved by a Todd Auction Co. employee who has it at his residence. By 2012, the Pure Oil station was housing law offices. [map]
former station
Sylvania, GA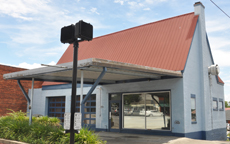 This former station may have been built in the 1930s or 1940s. It may have been a Pure Oil but the proportions seem off. The building now houses the S&S Seafood Market. [map]
RoadsideArchitecture.com

Copyright. All photos at this website are copyrighted and may only be used with my consent. This includes posting them at Facebook, Pinterest, blogs, other websites, personal use, etc.

Tips & Updates. If you have suggestions about places that I haven't covered, historical info, or updates about places/things that have been remodeled or removed, I'd love to hear from you: roadarch@outlook.com.