(hit "refresh" to get the most recent version of this page; click on photos for larger images)
Penguin Zesto
Winona, MN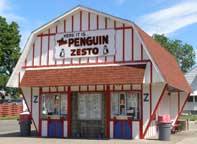 The Penguin Zesto was once part of the Zesto chain. I don't know if this cute barn-like building was built when it opened or if it came later. [map]
Zesto Drive-in
Broadway [gone]
Jefferson City, MO
Zesto Drive-in
Jefferson St. [gone]
Jefferson City, MO
There were two Jefferson City Zesto locations which were independently owned and operated. The city's first Zesto was built in 1948. In 1978, the owners moved this business to the Broadway "Downtown" location. They brought along this neon sign and installed it on the roof. The building was demolished around 2015. I don't know what happened with the sign. For more, see these websites: 1 and 2.

The Jefferson St. location was known as Zesto South. I don't know when it was built. This stand's neon sign was mounted on a pole. It was built in 1948 and came from another location. These two striding men signs were unique to the Jefferson City locations. I don't know if they appeared at any other Zestos. This location closed in 2021 and the neon sign is gone now. For more, see this website.
S&I Ice Cream
Concord, NC

S&I Ice Cream was originally a Zesto Drive-in which opened around 1965. S&I Ice Cream was at a previous location before moving into this building. [map]
Zesto
Alliance, NE
2012:
2022:
This Zesto is an early location with its original glass block walk-up window. The sign's neon was removed sometime after 2018. For more, see this website. [map]
former Zesto [gone]
Scottsbluff, NE
This Zesto had been remodeled quite a bit but the rooftop sign was still nicely maintained when these photos were taken in 2012. The building appeared to be vacant. In 2015, Midwest Slingers moved into the building but closed soon after that. The rooftop sign was covered up. In 2016, the building was demolished.
Zesto
Lincoln, NE
This Zesto in Lincoln opened in 1950. There was another modern location in Lincoln which has closed now. [map]
former Zesto [gone]
Omaha, NE
I assume this Zesto in Omaha must have either rebuilt or remodeled their building extensively. The sign is the classic rooftop design but it was moved to a pole. I believe this location's roof design and interior tilework is unique. These photos are from 2009. This location closed around 2012. The neon sign was removed in 2018 and is now in a private collection. The building now houses a Mexican restaurant.
Zesto
Omaha, NE
Dick's Zesto
Fremont, NE
This Zesto in Omaha has the older, classic rooftop sign. [map]

Dick's Zesto opened as Smitty's Zesto in 1948 at a different location. It was still at that location in 1959. It probably moved to this location in the early 1960s and this sign appears to be from then. I don't know of any other Zesto location that had this sign design. For more, see these websites: 1 and 2. [map]
Zesto
Newberry, SC
This Zesto has been around since the 1950s. These photos are from 2009. By 2017, the sign had been replaced with a new one. For more, see this website. [map]
Angelo's Zesto
Columbia, SC
Zesto
West Columbia, SC
Angelo's Zesto opened in 1951. This plastic sign is most likely a replacement. The interior still features the Zesto logo. There were five Zesto locations in the Columbia area at one time. For more, see this website. [map]

This Zesto in West Columbia opened in 1961. The building has been expanded over the years. The original fiberglass 15-foot-tall cone is unique. For more, see this website. [map]
RoadsideArchitecture.com

Copyright. All photos at this website are copyrighted and may only be used with my consent. This includes posting them at Facebook, Pinterest, blogs, other websites, personal use, etc.

Tips & Updates. If you have suggestions about places that I haven't covered, historical info, or updates about places/things that have been remodeled or removed, I'd love to hear from you: roadarch@outlook.com.