(hit "refresh" to get the most recent version of this page; click on photos for larger images)
The Zesto frozen custard drive-in chain got its start in 1945. That's when L.A.M. Phelan developed the Zest-O-Mat freezer and founded Zesto Dairy Products. It's not clear when or where the first location was built. The earliest known location still in existence is located in Jefferson City, MO. It was built in 1945 and could be the first. By the early 1950s, there were already dozens of locations with three in Evansville, IN and others as far south as Louisiana. The franchise spread throughout the Midwest, South, and Northwest. At its peak, the company had at least fifty locations. One source says that by 1950, there were Zestos operating in 46 states. There is one known former location in California. By the mid-1950s or early 1960s, the chain had folded. The remaining locations are all independently operated. Originally, these stands only sold ice cream. Over the years, most of them have added other fast food items.
Zesto Drive-in
Broadway [gone]
Jefferson City, MO
Zesto Drive-in
Jefferson St.
Jefferson City, MO
There were two Jefferson City Zesto locations which were independently owned and operated. The city's first Zesto was built in 1948. In 1978, the owners moved this business to the Broadway "Downtown" location. They brought along this neon sign and installed it on the roof. The building was demolished around 2015. I don't know what happened with the sign. For more, see these websites: 1 and 2.

The Jefferson St. location is still open and is known as Zesto South. I don't know when it was built. This stand's neon sign is mounted on a pole. I would assume that the building has been remodeled and that this sign is also from 1948. These two striding men signs are unique to the Jefferson City locations. I don't know if they appeared at any other Zestos. For more, see this website. [map]
Zesto
Franklin St.
Evansville, IN
This Zesto opened in 1949. It was the first location in town. There was a classic, curved Zesto sign on the roof of this building originally. [vintage photo thanks Willard Library] For more, see this website. [map]
Zesto
Morgan Ave.
Evansville, IN

I believe this building was the second Zesto location in Evansville. It has been vacant for many years. [map]
Zesto
Riverside Dr.
Evansville, IN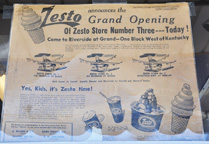 This Zesto opened in 1952. This was the third location in town. [map]
This Zesto has been here since the 1950s. Neon was added to the rooftop sign in 2009. I don't know if the sign originally had neon or not. For more, see this website. [map]
Zesto
New Albany, IN
The original location of this Zesto in New Albany was built in 1951. The stand was moved to its current location in 1996 during a road-widening project. The sign was moved to the new building but the original building was demolished. The sign was destroyed in a storm a few years later and was replaced with the replica shown above. For more, see these websites: 1 and 2. [map]
This Zesto features the classic rooftop sign and a giant rooster. The sign had neon originally and the rooster revolved at one time. For more giant roosters like this, see this page. [map]
Frosto
Crowley, LA
Frosto opened as a Zesto in 1950. Around 1955, the drive-in went independent and changed the name to Frosto. For more, see this website. [map]
Zesto
Newberry, SC
This Zesto has been around since the 1950s. These photos are from 2009. By 2017, the sign had been replaced with a new one. For more, see this website. [map]
Angelo's Zesto
Columbia, SC
Zesto
West Columbia, SC
Angelo's Zesto opened in 1951. This plastic sign is most likely a replacement. The interior still features the Zesto logo. There were five Zesto locations in the Columbia area at one time. For more, see this website. [map]

This Zesto in West Columbia opened in 1961. The building has been expanded over the years. The original fiberglass 15-foot-tall cone is unique. For more, see this website. [map]
former Zesto
Athens, TN
This Zesto was being converted into the Spice of Life Cafe when these photos were taken in 2007. The rooftop sign was repainted. That business had closed by 2011. By 2013, the building was occupied by the Bare's Family Cafe. The sign was repainted again. That restaurant closed in 2013. The building now houses Joe's Italian Cuisine. The sign has been painted white. For more, see this website. [map]
RoadsideArchitecture.com

Copyright. All photos at this website are copyrighted and may only be used with my consent. This includes posting them at Facebook, Pinterest, blogs, other websites, personal use, etc.

Tips & Updates. If you have suggestions about places that I haven't covered, historical info, or updates about places/things that have been remodeled or removed, I'd love to hear from you: roadarch@outlook.com.