(hit "refresh" to get the most recent version of this page; click on photos for larger images)
The Zesto frozen custard drive-in chain got its start in 1945. That's when L.A.M. Phelan developed the Zest-O-Mat freezer and founded Zesto Dairy Products. It's not clear when or where the first location was built. The earliest known location still in existence is located in Jefferson City, MO. It was built in 1945 and could be the first. By the early 1950s, there were already dozens of locations with three in Evansville, IN and others as far south as Louisiana. The franchise spread throughout the Midwest, South, and Northwest. At its peak, the company had at least fifty locations. One source says that by 1950, there were Zestos operating in 46 states. There is one known former location in California. By the mid-1950s or early 1960s, the chain had folded. The remaining locations are all independently operated. Originally, these stands only sold ice cream. Over the years, most of them have added other fast food items.

These pages are organized alphabetically by state.
Sno-White Drive-in [gone]
Madera, CA

2008:
2014:
This Sno-White Drive-in opened as a Zesto in 1950. The horizontal panels on the sign were probably added when this business became a Sno-White. The Zesto chain was introduced in California when the Lodi location opened in 1949. At that point, there were plans for about 40 locations to be built in Northern and Central California. At least five were built there with at least two in Southern California. By 1962, a few of these Zesto locations were sold to the Sno-White chain, while others went independent. There were about 200 Sno-White Drive-in locations in California at the chain's peak. In 2009, the Madera building and sign were repainted bright yellow. Sometime after 2011, the rooftop sign was painted blue. In 2015, the front of the building was badly damaged by a two-car collision. The windows are still boarded up and the building remains vacant. In 2023, it was announced that the building would be demolished. The sign was donated to the Madera County Historical Society and removed. It will be restored and displayed at the Madera County Fairgrounds.
former Zesto Drive-in
Atlanta, GA

2010:
2021: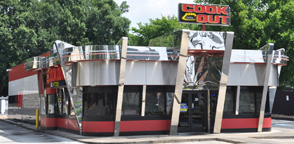 This Zesto Drive-in was built in 1954. The sign references the date of 1949 which was when the first location, not this one, opened in Atlanta. The 1954 building was replaced in 1991 with the flashy retro style building and signs shown above. This location closed in 2014. In 2015, the building began housing Cookout and the signs were replaced. For more, see this website. [map]
Zesto Drive-in
Atlanta, GA
2010:
2021:
This Zesto Drive-in opened in 1955. The neon sign is from the mid-1980s. It was originally installed at the Piedmont Rd. location shown below. This plastic pole sign was built in 1997. It was removed in 2019. This location was closed in 2021 when a tree fell on the building. For more, see this website. [map]
Zesto Drive-in
Atlanta, GA
This Zesto Drive-in was built in 1953. I don't know how much of the building is original or if it was completely rebuilt in a retro style at some point. The light fixtures inside are probably modern additions. [map]
Zesto Drive-in
Atlanta, GA
This Zesto Drive-in was built in 1959. [map]
Zesto Drive-in
Forest Park, GA
This Zesto Drive-in may have been built in 1974. [map]

There are a few other modern Zesto locations not shown here in the Atlanta area. For more, see these websites: 1 and 2.
RoadsideArchitecture.com

Copyright. All photos at this website are copyrighted and may only be used with my consent. This includes posting them at Facebook, Pinterest, blogs, other websites, personal use, etc.

Tips & Updates. If you have suggestions about places that I haven't covered, historical info, or updates about places/things that have been remodeled or removed, I'd love to hear from you: roadarch@outlook.com.